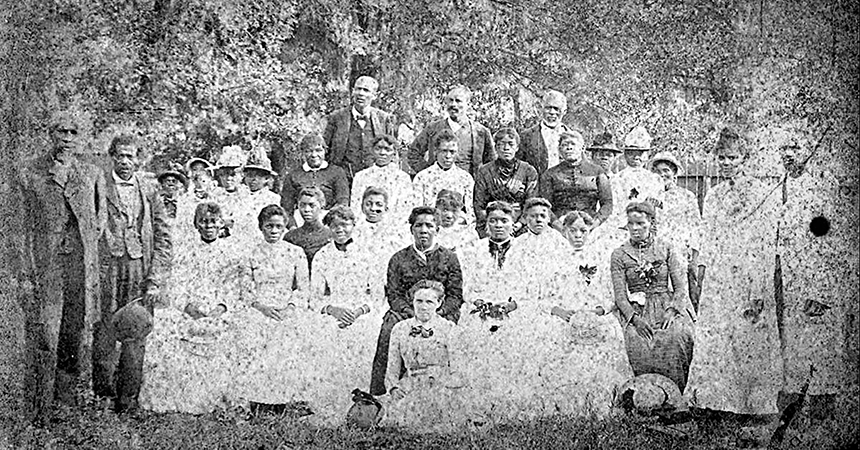 A Juneteenth celebration at Emancipation Park in Houston, 1880.
Last year, Juneteenth became a federal holiday. It commemorates June 19, 1865, the day news of freedom reached enslaved Black people in Galveston, Texas, more than two years after the Emancipation Proclamation was signed by President Lincoln.
Honoring this history is long overdue, but it takes more than a holiday to honor generations of struggle, resilience and power. Our nation must acknowledge systemic challenges that Black Americans continue to face, including racial disparities in the energy industry.
Energy burdens, or the percentage of household income spent on energy costs, have long been disproportionately high for Black people, putting them at greater risk for late payments and service disconnections. They are also more likely to experience negative health impacts due to environmental disparities.
In recent years, we've created partnerships with Black-owned businesses and nonprofits, highlighted Black community leaders in our Changemakers blog series, and committed to learning more and doing more with help from our Diversity Advisory Council and guided by our Diversity, Equity and Inclusion Plan.
Through these initiatives, we've had the chance to meet inspiring advocates and support meaningful work to ease energy burdens and create opportunities.
In honor of Juneteenth, we'd like to share some of their stories:
Kheoshi Owens is CEO of Empress Rules Equity Consulting, a firm focused on anti-racism, equity and inclusion, and a founding member of our Diversity Advisory Council. Like her, we believe the legacy, impact and history of slavery and discrimination is a topic that should be remembered every day.
Last year, Owens told us reparations and education are needed in order to end racial injustices: "I have glimpses of it, but to actually live freedom — I don't even know what that level of freedom feels like yet; but I will, because we will work together as one community to repair harm and heal as a nation."
Sprinavasa Brown is co-founder and executive director of Experience Life Science Outdoors, a nonprofit that uses experiential, nature-based learning to connect students of color to STEAM (science, technology, engineering, arts and mathematics) education. She was inspired to create this sort of opportunity for children after finding few such offerings for her own child.
"In Portland, the norm was for Black and Brown children to go to sports camps," she told us. "There weren't many options for experiential learning, science and outdoor education where my Black child could learn, be engaged and make friends with kids that looked different from his school community, who were predominately white."
Community Energy Project has provided home repairs and other services to Portland families for more than 40 years. This year, CEP — with support from Energy Trust and funding from the Portland Clean Energy Community Benefits Fund — is providing free home improvements to Black homeowners in North and Northeast Portland, a group that has historically been left out of energy-saving programs.
Many of these homeowners are seniors whose energy bills can be lowered by as much as 40% by the installation of energy-efficient heating and cooling systems, new insulation, water heaters and solar panels.
Dean's Beauty Salon and Barber Shop is Portland's longest-running Black-owned business and the definition of resilience. In 1956, Benjamin and Mary Rose Dean opened the shop in the Eliot Neighborhood, then the heart of Portland's Black community.
The Deans had come to Portland to escape segregation in the South and create a better life for their children. The shop they started has seen it all, including a transformative wave of gentrification. As longtime residents and local businesses get pushed farther away from Eliot, Dean's has remained a strong tie to Portland's Black community.