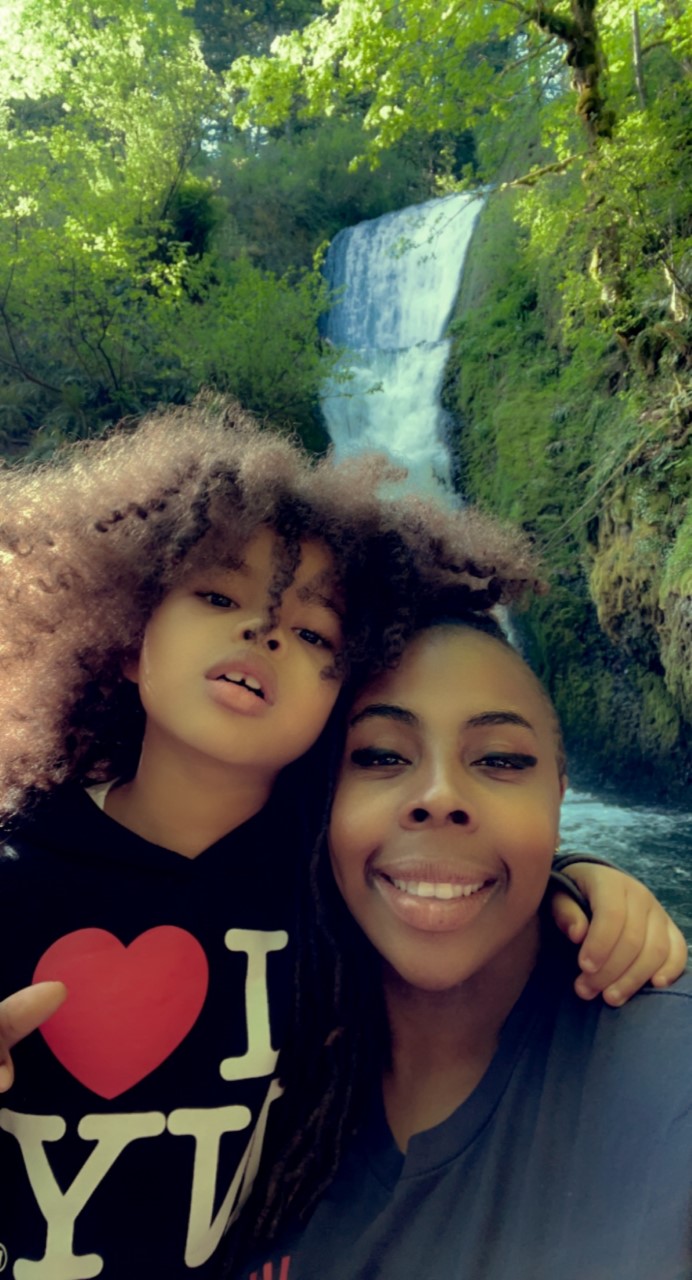 This is the first in a series of blog posts amplifying community voices. 
For Kheoshi Owens, founder and CEO of Empress Rules Equity Consulting, an anti-racism, equity and inclusion consulting firm, Juneteenth is both a celebration of freedom for Black Americans and a reminder of the ways in which that freedom hasn't been fully realized.
Juneteenth commemorates June 19, 1865, when the last enslaved people were freed more than two years after the Emancipation Proclamation. This month, Oregon lawmakers agreed to officially recognize Juneteenth as a state holiday beginning in 2022.
Owens, a founding member of Energy Trust's Diversity Advisory Council, says the legacy of slavery and discrimination in the United States should be remembered every day.
"I celebrate being Black every day," said Owens. "Black history is American history. Juneteenth is something that everybody has a hand in – the determined and resilient Black folx who fought for freedom, and the white folx who participated in and continue to benefit from enslaving Black people. That's something people should be thinking about every day."
Here, Owens talks about Juneteenth, reparations and what Energy Trust can do to help end racism.
Does this Juneteenth feel different after last year's racial reckoning?
KO: For me, it doesn't make it any heavier. It's always been heavy. I'm wondering when are people going to change? How many more Black people have to die? What is going to have to happen for people who operate in whiteness to change, give reparations and acknowledge that our laws are rooted in anti-Blackness? All these systems are designed to keep Black people down. What is it going to take?
I'm taken back when I hear people say something changed in them when George Floyd died; George Floyd has been dying and has died thousands of times. What will you do differently? What will you do to prevent us from dying? How will you protect us and invest in our healing? How will people support Black people in thriving?
How do you think Black and white Americans define freedom?
KO: For people who look like me, it's an act of resistance to be able to be free. We are challenged to just be able to show up as humans and do simple things like get a well-paying job and have leaderships opportunities… I think about Botham Jean, sitting in his living room and he was murdered inside his own apartment. I think about my beloved friend Kendra James who was murdered by the police in Portland. I'll never hug her again. Freedom? I'm looking forward to when I can actually be free. To when we can be free.
I have experienced freedom in my own domain, but as far as experiencing freedom on a white level – to be able to be my authentic self and be able to wear what I want to wear; talk how I want to talk; be direct or not be direct; to be served first, to be seen, to be heard, to be validated, to be respected – I have not experienced that freedom. I have glimpses of it, but to actually live freedom, I don't even know what that level of freedom feels like yet; but I will, because we will work together as one community to repair harm and heal as a nation.
What needs to happen to change that?
KO: There needs to be reparations. All these corporations and families that can trace any part of their money back to slavery, participated in slavery or anybody that had anything to do with it, from banks to insurance companies that insured Black bodies as property. Anybody who benefited from slavery or any type of anti-Black oppression – they need to pay reparations. First, we need to get the monetary funds, you need to consistently donate and give. Reparations are not even something that Black people need to ask for; it's owed. Black people have already paid the price. Don't wait for someone to tell you to do it; do it on your own.
Second, there needs to be education. Corporations, nonprofits, every entity and individual needs to invest in educating themselves and stop depending on Black and Brown folx to educate them (for free), unless you're going to compensate them… And educate your children, let them know what happened. We're not here to make white kids feel bad or make white people feel bad, but what happened happened. I still have to deal with being a Black person in America, so white people will have to deal with their history too and how they have benefited and continue to benefit from the atrocities that their ancestors and people who look like their ancestors have committed. It's time to change the behavior, turn away from the delusion of white supremacy and turn toward anti-racism, justice and healing. Change begins with self.
Lastly, I would like to see more people in positions of power, especially white people, be intentional and change the narrative through action. We need people who operate in whiteness to decolonize their minds and their practices and change their behavior. The biggest challenge that I've seen from some of the thousands of white folx that I have encountered in my life is holding each other accountable. Embed anti-racism in their institutions. Share the power. I'm looking forward to the day when we, as American people, can heal enough to develop a different narrative about white people. That they be known as something different than the colonizer, but as a loving member of our human family. I would like to see more of our white siblings acknowledge the harms that have been done, be intentional about their efforts to repair current and historical harms, and to learn to position themselves as a learner and learn humility.
What role can Energy Trust play?
KO: Energy Trust is starting to move in the right direction. I love the partnerships that it's making with the Black and Brown communities. Energy Trust  is open to working in collaboration with BIPOC communities instead of extracting, which is normally what people and organizations who operate in whiteness do. They want to come get something from you but they don't want to compensate you, they don't really care about your community… I love Energy Trust's First Thursday Diversity Day events, led by Energy Trust's  Diversity, Equity and Inclusion Lead Tyrone Henry; I love the fact that more people are getting excited about anti-racism and using a racial equity lens when they're doing projects. They're working on racializing these experiences instead of acting like everybody's the same. Because we're not; every community has different needs.
I would love to see Energy Trust become a leader in anti-racism, racial equity and inclusion in energy efficiency through providing monetary reparations for incentives that Black and Brown folx paid for and rarely benefited from; and diversifying their board, leadership and staff through a racial equity lens. Energy Trust can be a leader in our community by modeling what it looks like to take responsibility for past harms and do the right thing. Energy Trust can be an anti-racist leader. I think if Energy Trust can be the big sibling to other organizations, we really can end racism. I truly believe that. That is why I am so invested in Energy Trust. I want to believe. Reparations starts with the willingness of Energy Trust to say, "Yes, for a long time we've been giving white people an unfair advantage because of unearned privileges; for Black people here in Oregon, we have charged you for a service that you may not have known existed and we want to clean that up. We want to be the change that we want to see in the world and we can't do it without you." Make Juneteenth more than a holiday; live it.