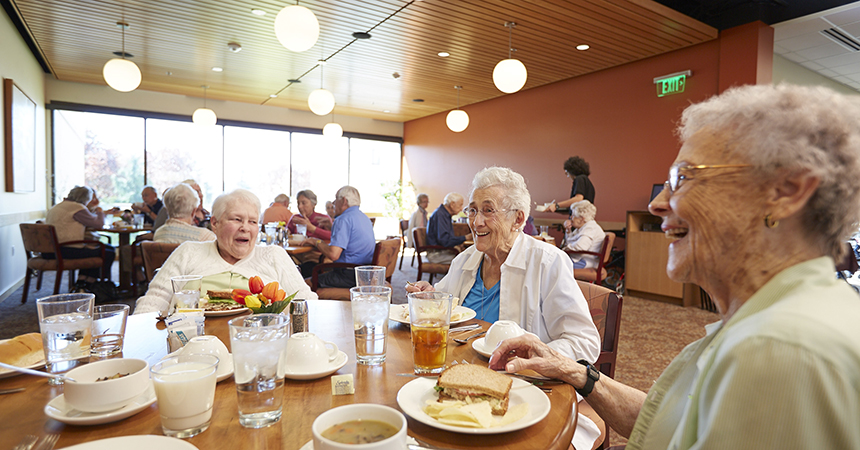 "We won't go back to the way we were. The new normal will not be the old normal," said Beth Mace, chief economist at National Investment Center for Seniors Housing & Care (NIC). Mace spoke to this theme at a NIC conference and offered a few takeaways for assisted living facilities to consider as they prepare for future operations that improve safety as well as comfort for residents. Here are a few lessons learned from the pandemic that can influence future operations, physical environment and building infrastructure.
1. Open air environments
In the future, capital improvement projects can include more outdoor access and versatile infrastructure to encourage healthy environments that embrace the outdoors. This may mean expanding existing spaces and outdoor/indoor community areas or reinventing dining areas. Take for example a modern restaurant that uses industrial garage doors that open to allow for fresh air and additional outdoor seating. Resort like amenities including covered lounge areas in addition to passive areas like walkways, gardens and fountains can also bring residents outside. When planning for capital improvements, consider integrating new or innovative solutions and amenities to accommodate large, open areas in an energy-efficient way.
2. Market for the future
The need for assisted living and senior living facilities will continue to grow along with the rising population. Facilities can prepare now and adapt to new amenities that tenants will be looking for. Tenants will have high expectations for safety measures, technology, and communication, which may mean touchless entry, smart technology and energy-efficient air purification systems.
3. Utilize local resources
Operators willing to make improvements to handle the increasingly complex demands of senior living facilities will have a brighter long-term outlook. Financing and energy reduction may be a key component to thriving in the post-pandemic era. Your local utility may offer free energy assessments to help you identify enhancement opportunities and help you minimize the impact on your energy use. Incentives and technical expertise offered by programs like Energy Trust of Oregon allow facilities to improve property value and ROI while making energy-efficient improvements affordable. Consider reaching out to your local utility or Energy Trust during the project planning stages for additional support.