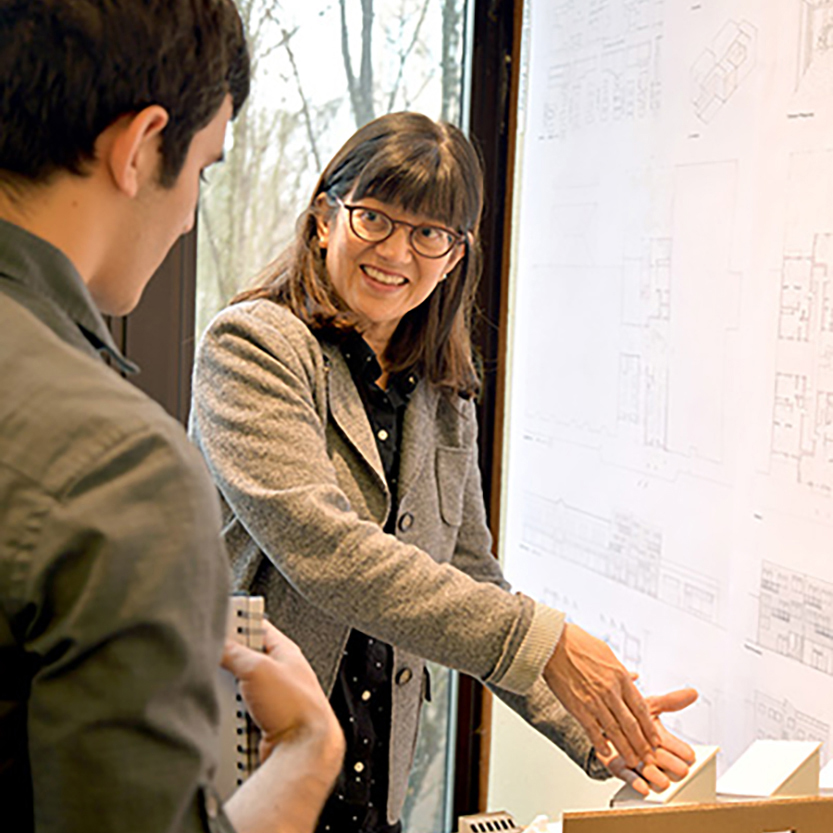 This is a part of a series of blog posts amplifying community voices.  
Alison Kwok is a professor of architecture at the University of Oregon (UO) where she is also the director of the Technical Teaching Certificate program and the NetZed Laboratory and the co-director of the UO PhD in architecture program. Kwok's foundation in education and her desire to build a sustainable future has led her to research and explore adaptive and mitigation strategies for climate change. As a professor, Kwok provides hands-on, collaborative experiences where students can foster creative solutions for designing better buildings.   
Q: Tell us about yourself and your career. How did you get into the field of architecture? 
While I've always been interested in health, energy and renewable design, I didn't start out as an architect. After getting my master's in Secondary Education, I taught middle and high school science in Hawaii for 8 years until my interests eventually led me to complete my master's and PhD in architecture at the University of California Berkeley. After working for an architecture firm, I returned to my teaching roots to fill in the gaps I saw in architectural education. My mission in teaching is to merge design and technology in ways that help students make the best, integrated decisions possible for our climate's future.  
Q: Describe your work in Oregon and the role sustainability plays.
Sustainability is ingrained in everything I do. In my courses, I try to avoid lectures and exams and give students hands-on learning experiences. No one will remember the answers for a quiz, but they will remember going into a real building and using tools to study the consequences of a west-facing facade with no shading (hint: it's hot). I love hearing students talk about their experiences, and what they will take into practice. 
Q: What are the biggest challenges you've faced in advancing sustainability efforts in your field? 
One of the biggest challenges I address is helping students work together collaboratively so they enter the workforce ready to work in teams. When you are in school, you want to learn things on your own and build personal confidence, but it's also so important to learn to build confidence while working with others since that is the reality of becoming a professional architect. 
When it comes to climate change, we know there are many challenges to overcome. As educators, it is incumbent on us to give students the skills and tools to create resilient, adaptable, carbon-positive buildings.  
Q: What changes have you seen, or do you expect to see, in your industry as a result of the COVID-19 pandemic?  
The importance of ventilation and airflow has become vital over the last year. Many schools, universities, and households began to examine the use of outdoor, transitional spaces. One of the projects I'm working on looks at the physical environment of the classroom in terms of comfort and air quality and how we can re-invent ideas of the traditional classroom by transforming outdoor space in K-12 schools. Designing covered outdoor spaces to be used as classrooms or team spaces can be used for a good part of the year in many climates. 
On a personal level for teachers and students, we're finding out more about ourselves and what it means to be an introvert or extrovert during this time when we're working remotely. I hope we can continue to use elements of remote teaching that all students can access, like recordings of classes and speakers. As we move back to in-person teaching, I will try to factor in the value of giving breaks during class and structuring some social activities.  
Q: What excites you most about the future of your work?  
There is still so much to do. I continue to get excited about being a part of new projects that are not just answering a question but are changing a process. I am excited to continue building new partnerships and exploring how we can decrease the carbon emissions of building materials. While it's a big dream, I would love to work on—and in—a living building like the new PAE Living Building in Portland. 
Q: What is your advice to women entering your field?   
During a 2021 graduation ceremony speech for the University of Oregon School of Architecture & Environment, one of our alumni encouraged students to write, create or do one thing for themselves every day before starting work or class. I love this advice because it reminds us to build our creativity and confidence over time and to break work into manageable increments. Finding your passion doesn't happen overnight; it takes making time to be creative and care for yourself.