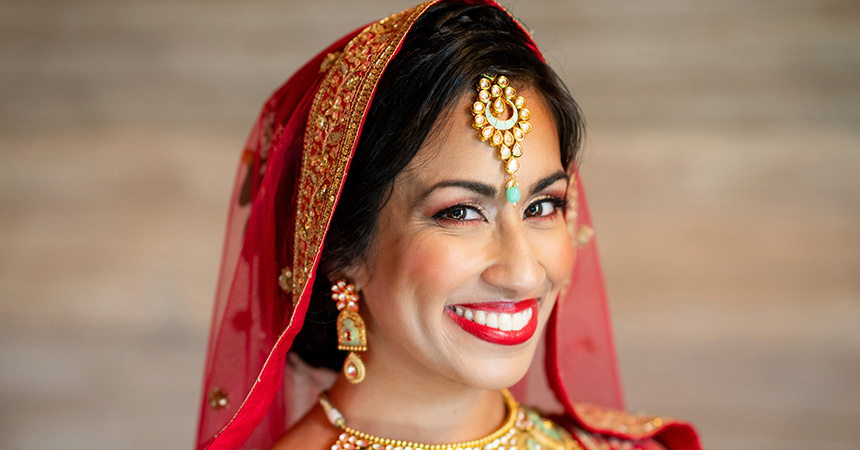 This is part of a series of blog posts amplifying community voices.
Pooja Sonalee Apple worked at progressive architecture firms for nearly a decade before founding her own, Curious Architects LLC, in 2022. She's a longtime sustainability supporter, first in college as President of Students for Ecological Design, then as a LEED Gold champion on the Portland International Airport's Concourse E, and now as an adaptive-reuse advocate for built environments.
Q: Tell us a little bit about yourself and how you came to architecture.
I grew up in the Midwest, moving from Minnesota, to Ohio, to Illinois for my parents' jobs as computer engineers in the booming telecom industry of the 90s. They instilled in me a love of math, science and computers. Subverting gender norms of the time, they bought me Legos and K'nex, and refused to buy me Barbies—but I loved Barbies! I used them as scale figures in little cities that I would build out of found items: an old table became the structure of a mall, and packaging material and scraps of fabric were turned into furniture for my dolls. My parents strongly encouraged me to pursue a STEM career, so as a deeply creative individual, architecture seemed to be a perfect track for me.
In architecture school, I was part of a group of students who volunteered to do recycling for the school, which led to a formal sustainability advocacy group. I met a lot of interesting people in that group—not just architecture majors but people interested in sustainability from different perspectives like locavores, or people who mostly eat locally grown and produced food, and environmental engineers. They broadened my understanding of sustainability overall, and in architecture.
Q: Did your interest in sustainability lead you to Portland?
When I took a sustainable urban planning course in college, I learned about Portland's urban growth boundary, walkable city blocks, bike infrastructure, city-wide composting, and how it's famously the greenest city in the country. After interning at architecture firms all over the U.S., from Washington D.C. to San Francisco to Chicago and Seattle, I settled in Portland for its sustainable bent and funkiness with its painted intersections, parklets, and communal vibrancy.
Q: What role does the natural environment play in your work?
As a daughter of Indian immigrants, struggling to find my place in American society, I found nature to be a cultural common denominator. A key distinction between nature and the built environment is that nature doesn't contain divisive symbolism; it's for everyone, it's free, and everyone can relate to its symbols of life and tenacity.
The way that it plays into architecture is best understood by looking at abandoned buildings, where nature is eroding symbols of wealth or power and taking the space back. Adaptive reuse is my passion—taking abandoned buildings and turning them into something new. The way nature helps change the story of these spaces is exciting to me.
Q: What are some advantages of adaptive reuse?
You can make a good case, even financially, to not tear down an existing building and instead bring new life to it. And you're not just reducing waste in materials but also preserving local identity and character, and the stories a neighborhood can tell. It's hard to recreate that with new construction.
Q: Are there other adaptations or changes in architecture that you're excited about?
There has been a big push to diversify the profession. As a result, more communities are finding their voice in design. I expect this will result in new ideas and culturally driven solutions to address the impacts of climate change.
The use of heavy timber in construction has picked up a lot, which is exciting because using structural wood instead of steel or concrete is one of the biggest things you can do to reduce embodied energy use. Plus, natural wood is gorgeous.
A lot of sustainable design doesn't need crazy new tech but a good understanding of passive design and urban ecology. For example, walking around my neighborhood, I've been inspired by DIY approaches to water conservation—using a rain barrel for rainwater harvesting and installing drip irrigation for plants are great strategies that aren't expensive and have practical advantages.
 Q: Are there challenges you've faced in advancing sustainability efforts in your field?
Goals around energy, water and disaster resilience must be set before plans are drawn. Where the building is situated, the location of windows, the construction materials, and the systems serving the building, all have massive impacts on sustainability. Unfortunately, too often sustainable design is an afterthought. Adding solar panels is a good step towards energy resiliency, but there is so much more we can do as architects to reduce the resources needed to sustain a building's functionality.
We need to be involved at the beginning, possibly even before property is purchased, to weigh in on a site's connectivity to mass transit and bike infrastructure, access to clean air, water, daylight, and views, and potential strategies for parking. Even better, a client might buy an existing building to get well ahead of sustainable strategies, because new-construction energy expenditures are huge.
Q: How does your organization address issues around equity?
The first step in addressing architecture in historically marginalized communities is building relationships in those communities. When I co-founded and served as President of Oregon's first chapter of the National Organization of Minority Architects (NOMA PDX), I diversified my network and discovered more ways to engage underserved communities in design. I continue to volunteer for architecture programs in K-12 schools and serve as a guest critic in architecture reviews at local universities.
Q: Do you have any advice for other women or people of color entering your field?
No one is going to willingly and happily hand over power. It's going to take a new generation of leaders to truly change power dynamics. I hope to see others of color founding their own firms or making substantial changes at the leadership level in existing firms to develop a deliberate approach to diversity and equity.
For emerging professionals, I recommend keeping a notebook of your goals and accomplishments, referring back to it when advocating for yourself in job interviews and annual reviews.
Most importantly, beware of burnout. Self-care, patience and learned optimism are critical to keep progressing towards your goals without getting jaded before reaching the finish line. True changemaking is a marathon, not a sprint.
Q: Have mentors helped you advance your career?
I made many great connections and met fantastic mentors on the Portland Airport project. Principal architect, Michelle Vo, recognized my passion and encouraged me to lead sustainability discussions with clients. Heidi Bertman and Patrick Boyle taught me to be a good architect from a technical standpoint while demonstrating the power of compassion and humor to get through stressful challenges. It was empowering to work with female contractors and engineers who are passionate about sustainability and equity. Every example of representation goes a long way.