This post is part of a series featuring 2023 members of the University of Oregon's Resource Assistance for Rural Environments AmeriCorps program focused on energy. 
Allegra Starr is interested in serving rural and underserved communities, promoting sustainability and tackling problems in complex systems. Her involvement in University of Oregon's Resource Assistance for Rural Environments (RARE) AmeriCorps Program has allowed her to combine all her passions into one experience.  
As a RARE member, Starr is supporting Grants Pass' Sustainability and Energy Action Plan. She works alongside the Sustainability and Energy Action Task Force, a group of 12 dedicated area citizens with experience in an array of disciplines including forestry, solar and energy efficiency as well as students from Grants Pass High School and Rogue Community College. 
"We [had] working groups twice a week to discuss questions and areas in the plan that folks [weren't] agreeing upon," said Kyrrha Sevco, business operations supervisor for the City of Grants Pass Public Works Department. "Allegra [has done] a great job of bringing everyone together and moving them towards consensus. Without Allegra's support and help, the City wouldn't be able to create this plan." 
Over a year's worth of work culminates in the city's Sustainability and Energy Action Plan, which outlines five goals and 14 project recommendations. Adopted by the Grants Pass City Council in May, the plan aims to tackle energy planning through buildings and energy, transportation, consumption and materials and natural systems.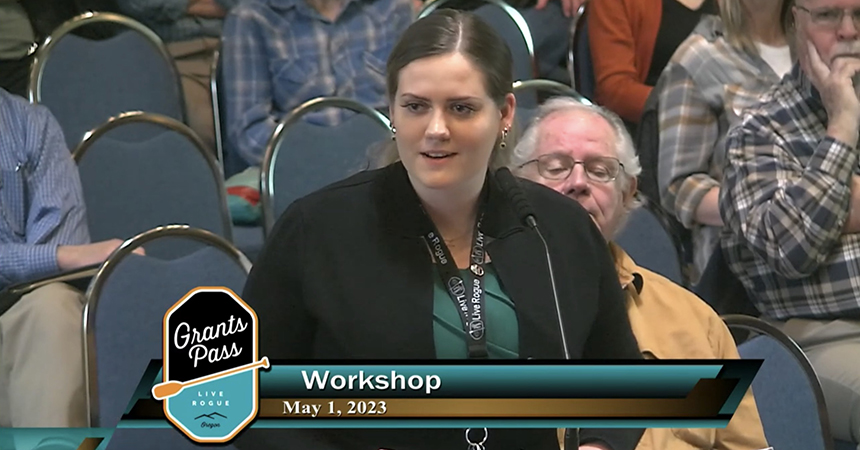 "Diving into the actual drafting of the plan, I realized the need for intensive data collection and analysis regarding past and projected energy use and cost in order to support the recommendations in the plan – a key piece missing from many sustainability and energy planning efforts," said Starr. 
Starr has worked closely with Karen Chase, Energy Trust's senior outreach strategies manager and a member of the Sustainability and Energy Action Task force. Providing information on incentives and best practices for energy efficiency, Chase helped connect Starr with experts to understand how to reduce energy usage at water facilities and upgrade lighting systems. 
Starr's experience with RARE has provided years' worth of knowledge in just a few short months. From holding public meetings to presenting to the City Council and answering council members' questions, her work has produced a tangible product that will benefit the community for years.  
One highlight from her experience has been being introduced to long-term energy planning and system analysis as a career path.   
"I really feel I've found my niche. It's an especially exciting area right now with so much focus on grid conversion and changing our energy systems, and so much federal funding and overall investment happening," said Starr. "I look forward to helping make this conversion not only work, but also ensuring we take care of our lower-income and underserved communities."  
After completing her work with the City of Grants Pass and the RARE program, Starr plans to continue working in the energy field, hoping to help shift people's thinking about sustainability to be more comprehensive.  
"I think one of the key misconceptions about sustainability is that it is just about trees or polar bears or the like, but it is about so much more. Sustainability is really about securing a long-term future for ourselves and future generations. That means a healthy economy, a robust energy system and a stable environment," said Starr.