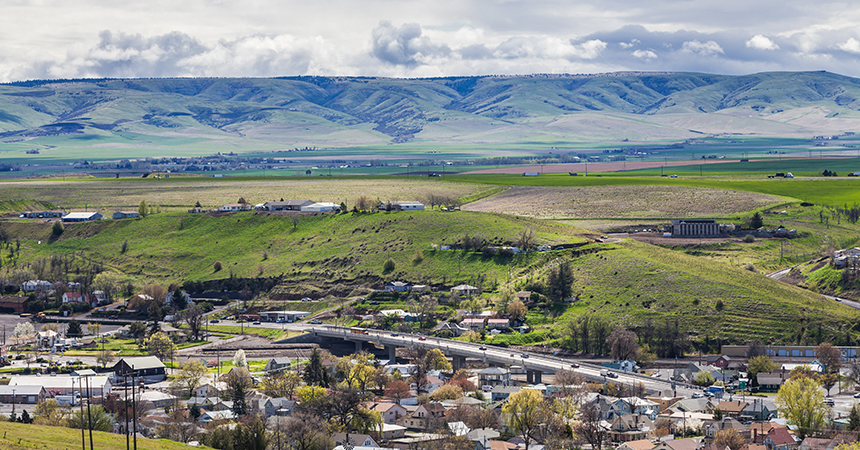 For utility customers living in Southern or Eastern Oregon, one of the ways they learn about Energy Trust programs and services is through two community outreach managers located in these areas.
Karen Chase in Cave Junction and Caryn Appler in Pendleton are Energy Trust's on-the-ground community resources for local businesses, homeowners, renters, farmers and ranchers, schools, tribes and other organizations. In addition to connecting customers to Energy Trust resources and incentives, Chase and Appler ensure energy needs of their regions are top of mind for Energy Trust programs, so services can be tailored to support rural communities. Energy Trust also has contractor outreach staff and trade allies that help in these areas.
In a year with a lot of change and challenge, we sat down with Chase and Appler to discuss issues in their communities and what they are focusing on in the coming months.
How do you describe your roles at Energy Trust? 
Caryn Appler: I cover a region from Hood River to Ontario from my home office in Pendleton. My work supports customers for all programs. I connect customers to field staff, technical support and incentives. One significant role I play is to help our Portland-based staff better understand local needs and developments that impact program delivery and could assist us to meet savings and generation goals. I also connect with local people and resources so that we can work together to achieve the goals of our individual organizations and our community as a whole.
Karen Chase: What I do, broadly, is connect leadership, decision-makers and customers of all kinds with our services and expertise. I listen. I inform. I troubleshoot and problem-solve. I assist, inform and coordinate among Energy Trust staff. I support projects and initiatives both inside and outside of Energy Trust. I support and guide community energy efforts and community-based organizations. And importantly, I do my best to keep my ear out to anticipate and identify opportunities where Energy Trust can be a resource throughout Southern Oregon.
What are the most important energy issues your region faces now and into 2021?
Chase: The single biggest issue in Southern Oregon is improving our area's energy resilience in the face of potential natural disasters, such as an earthquake, and climate-related disasters, such as fire and drought. If we have reliable energy resources during an emergency, we'll be able to keep critical systems such as hospitals or emergency services in operation. Additionally, we are embarking on a long-term rebuilding process from the devastating area fires in 2020. Our communities are navigating a variety of complex energy-related goals during this rebuilding.
Appler: Like the rest of the state, COVID-19-related issues have created prolonged challenges for our county and city budgets. We have several small communities with a modest tax base and a lower average income than the urban areas of the state. The pandemic is impacting our small businesses particularly hard. And nonprofit organizations that support our communities have had their budgets drastically reduced by their inability to fundraise through annual events like concerts, rodeos and county fairs. It is likely that we will be feeling the economic impacts of COVID-19 for a long time.
"When you live here like I have for 15 years, you know that the community is far from one dimensional." — Caryn Appler
Chase: The economic impacts of COVID-19 are definitely impacting our area. We're seeing shifting regional priorities, projected budget constraints and diminished revenues because of it.
Appler: Right now, every dollar counts. We have to help businesses and residents understand the immediate return on their investment for energy efficiency and renewable energy projects.
What are some recent Energy Trust efforts that are making an impact on customers in your area?
Chase: Energy Trust's sponsorship of AmeriCorp Resource Assistance for Rural Environments interns for cities and community-based organizations is innovative and very beneficial to rural communities. These RARE interns focus on community-related energy issues, typically energy efficiency and renewable energy generation. Through this effort, we have helped to add needed capacity to these organizations, which helps them save energy and generate clean energy in rural Oregon. This has a direct positive effect on economic wellbeing, including in areas that are low income.
Appler: It's great to see how energy projects can achieve benefits beyond energy savings. I am really proud of the support Energy Trust programs have provided throughout 2020 to the Confederated Tribes of the Umatilla Indian Reservation project to install new, energy-efficient manufactured homes in its Lucky 7 manufactured home park through Energy Trust's manufactured homes replacement pilot. The tribes' project team has been amazing force in driving the project forward in spite of all the hurdles with COVID-19. In January 2021, several energy-efficient single- and double-wide manufactured homes will be delivered to the park. These homes not only will be energy efficient but healthier and more comfortable for their residents too.
What do you want people to know about your area? 
Appler: Even though rural communities do share a lot of the same characteristics, it is important to understand that they are all different in just as many ways. When you live here like I have for 15 years, you know that the community is far from one dimensional.
Chase: I agree. While we speak in generalities about areas outside Oregon's main population centers, there is nothing truly ubiquitous about Southern Oregon, South-Central Oregon or the South Coast, or in any particular area or town in Oregon for that matter. Each community is different and has its own strengths, challenges, needs and character.
Appler: I would also add that in my area, customer connections happen everywhere. I learn about potential customer connections in meetings, conversations with stakeholders and through regular contact with trade ally contractors. But I also learn about them at the checkout line in the grocery store, passing by a construction site on a motorcycle ride, or through direct messages on Facebook from a friend of a friend. It is great.