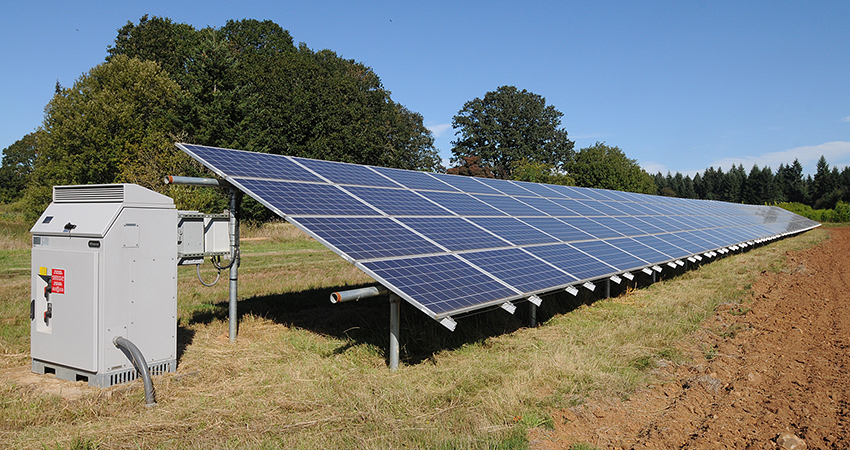 The first three community solar projects through the Oregon Community Solar Program are now online, bringing more clean energy options to Oregon residents and businesses.
The projects, located near Sandy, Molalla and Woodburn, are managed by solar developer Neighborhood Power. In total, they will produce more than 13,500 MWh per year—enough energy to power 1,400 Oregon homes.
All three projects are located within the Portland General Electric service area and are still enrolling customers. Any PGE customer can subscribe to one of these projects and receive a credit on their monthly utility bill for the electricity generated from their portion of the project.
The Oregon Community Solar Project is managed by the Oregon Public Utility Commission and administered by Energy Solutions, Energy Trust and Community Energy Project. The program, which is available to Oregon customers of PGE, Pacific Power and Idaho Power, makes solar energy accessible to those who may not be able to afford, or have the infrastructure to support, traditional solar options.
"Thousands of Oregonians are already generating clean power from solar systems on the roof of their homes or businesses, but the Oregon Community Solar Program extends that benefit to people who rent, live in an apartment or can't afford their own solar system," said Rebecca Feuerlicht, senior project manager at Energy Solutions. "Now more people can go solar."
Unique to the Oregon Community Solar Program is a 10% reservation of every project for low-income customers and a 25% capacity reservation for projects that are either small, under 360 kilowatts, or have a project manager that is a nonprofit, tribe or public organization. Individuals and families with lower incomes pay a reduced subscription while saving money on their monthly energy bills.
Energy Trust supports program development and delivery, including project manager registration, project certification, customer service and consumer protection. In addition, Energy Trust launched a Community Solar Development Assistance offer to support early development activities of small and public or nonprofit-led projects participating in the program.
The Community Solar Program will bring more projects online this year to continue offering Oregon residents and businesses access to local, clean energy. Residents and businesses interested in subscribing to a portion of a solar system can enroll through the Oregon Community Solar Program website.