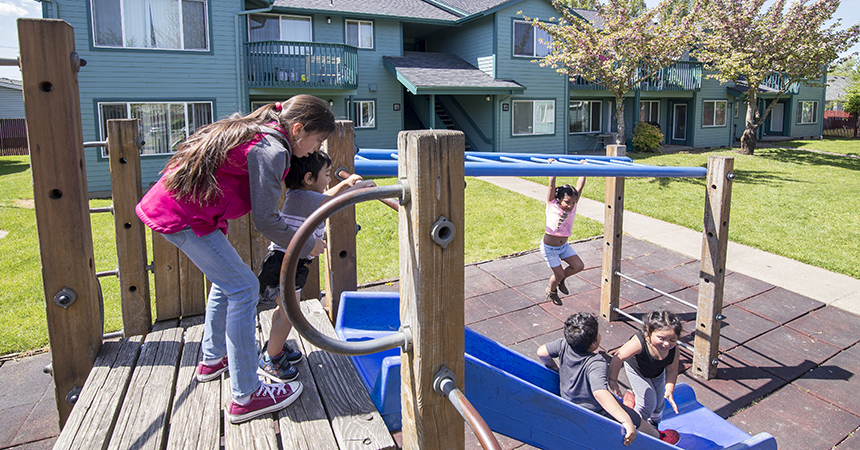 This month, Energy Trust launched a new Community Solar Development Assistance offering to support early development activities of small and public or nonprofit-led projects participating in the Oregon Community Solar Program.
The Oregon Community Solar Program, operated by the State of Oregon, will give customers of Portland General Electric, Pacific Power and Idaho Power the option to receive utility bill credits in exchange for buying or leasing part of a community solar project. Community solar projects range in size from 25 to 3,000 kilowatts. A 25-kW project is small enough to fit on the roof of a church or community center and could have as few as 10 participants.
Public and nonprofit organizations can build community-led community solar projects that will serve, benefit and be sited in underserved communities. When Energy Trust supports these community organizations in reaching their goals, we also expand opportunities for the underserved customers they serve and represent, including renters and people with low and moderate incomes, communities of color and rural communities.
Many public and nonprofit organizations lack experience developing renewable energy projects and may need additional support to bring these projects to their communities. Energy Trust's Community Solar Development Assistance incentives help get these projects off the ground and increase their chances of success.
The Community Solar Development Assistance incentives can be used to help pay for a variety of project development activities, including grant-writing, feasibility studies and consulting, and other technical assistance needed to help get these projects off the ground. Incentives can cover up to 80% of a project's development work for a maximum of $20,000, with actual amounts determined based on project size and applicant type.
To qualify, projects must deliver power to Portland General Electric or Pacific Power, meet size criteria and have goals to benefit underserved customers, such as low- and moderate-income customers, communities of color, tribes, renters, rural customers and/or small business or nonprofits.
Project proponents may apply for funding by completing and submitting a Project Enrollment Application (Form 210CS) and, once enrollment has been approved by Energy Trust, a Request for Funding (Form 230RF). The eligibility criteria, requirements, incentive details and process for applying are described on the application forms.
For more information or if you have questions, contact Energy Trust's solar team or call 1.866.368.7878.