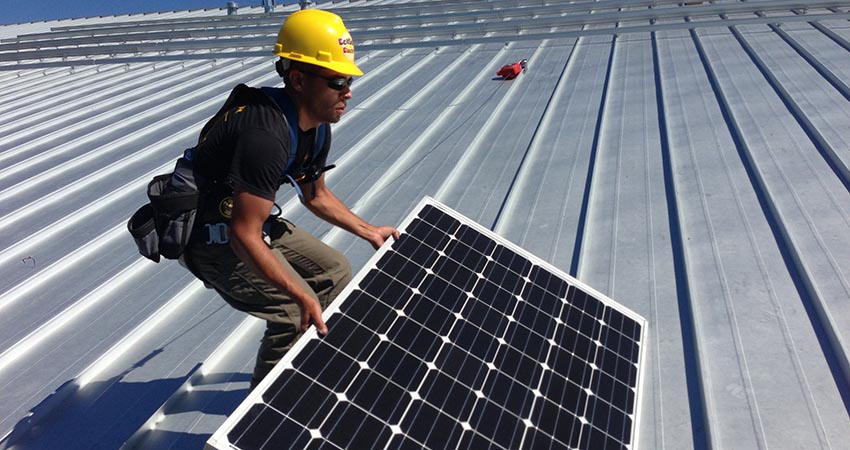 The Oregon Community Solar Program gives customers of Portland General Electric, Pacific Power and Idaho Power a new way to go solar. The program is managed by the Oregon Public Utility Commission and administered by Energy Solutions with help from Energy Trust, which works with project managers and participants to get set up.
To celebrate the first anniversary of the program, we sat down with Ryan Cook and Alina Lambert from Energy Trust's renewable energy team to discuss its progress and what they're looking forward to in 2021.
How does Oregon Community Solar Program work?
Ryan Cook: In a nutshell, Oregon Community Solar Program is building centralized community solar projects and allowing individuals to subscribe to pieces of them. This is a good program for anyone that can't utilize solar on their roof but still wants to participate in the solar marketplace. For example, if you're a renter, or if you're a low-income customer and can't afford the upfront cost of solar, or if you are a homeowner but your roof isn't a good fit for solar. The program, at its core, is designed to increase access to solar energy.
The way it works is the project manager builds the solar project and every kilowatt hour that project generates goes straight into the grid. That project manager also recruits homes and businesses to participate in the projects, and each subscriber gets credits on their utility bills corresponding to how much of the system they are subscribed to.
The program is available to project managers on a first-come, first-served basis to any kind of organization that wants to develop a project. That could be a solar company, a community-based organization, or any other organization that wants to make a project happen.
What's unique about Oregon's approach?
Cook: What is unique about our program is that we have a low-income requirement, so 10% of every project has to be reserved for low-income customers. The second thing that is unique about the program is that we reserve 25% of the capacity in Portland General Electric and Pacific Power service territories for what we call carve-out projects—projects that are either small, under 360 kilowatts, or they have a project manager that is a nonprofit, tribe or public sector organization.
What is the status of the program now?
Cook: The first projects that we awarded capacity to in January 2020 are coming online now. We had three projects come on last month and we should have another seven or eight toward the end of the spring. By the end of this year, we should have around 50 megawatts operating, which will be exciting.
We have around 11 megawatts subscribed so far. That includes around 400 households, many of those are low-income households that fall into the carve-out dedicated to local communities. We've also seen a lot of interest from local governments and universities that see the program as way to meet their climate goals by subscribing their facilities to the program.
What about for low-income customers and community-led projects?
Cook: We still have a lot of carve-out capacity left, so something that we are going to be working on this year is to bring some of those smaller community-based projects into the program and help them get through the door.
Alina Lambert: Energy Trust is also working on developing community solar incentives and that will help with the financing for some of those carve-out projects.
What's something surprising you have learned since working on the Oregon Community Solar Program?
Cook: I've been surprised by the variety of projects that we've gotten. We've got one project in Southeast Portland where a project will be located on the roof of an affordable housing building and the tenants in the building are going to subscribe at discounted rates. In Talent, about 15 households are co-investing in a project located on a warehouse owned by the Oregon Shakespeare Festival and they are all going to share the power that it produces. There is another project that will be located near the Portland airport that will recruit low-income households from the Cully neighborhood to participate.
We have another project in the works focused on how solar and farmland work together in beneficial ways, and another project in Prineville is going to enroll energy assistance recipients in Central Oregon in the project.
Lambert: I had an assumption about what community solar was before working on this program and I came to realize that community solar means something slightly different depending on what state you're in. It's very interesting to me to think that Oregon's program is unique to Oregon, and I like that we have a designated low-income section of the program because that's not something that every state offers. It's also nice that we work with Community Energy Project for the low-income designation because they've been great at advocating for low-income customers.
What happens next?
Cook: So much of what we have done so far has been getting projects into the program and to the point where we can approve them. Now we get to enroll subscribers and actually start operating projects. We're hoping to see more projects overall and by the end of the year, I hope to see the 50 megawatts that are scheduled to come online.
Lambert: We are also hoping that as the program becomes more well-known to the general public, we will see more low-income participation and, potentially, more multifamily housing buildings becoming involved.