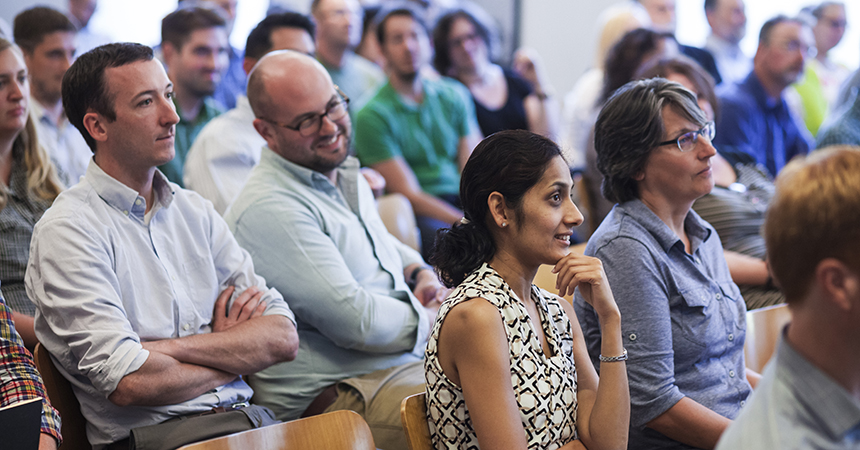 Buildings are responsible for a significant portion of the world's greenhouse gas emissions, and while the number of net-zero buildings in Oregon is growing, much more work and research is needed to reach widespread adoption.
To support that research, each year Energy Trust of Oregon awards the Net  Zero Fellowship Grant to an individual pursuing the advancement of net-zero commercial buildings in Oregon. The grant recipient receives up to $50,000 to fund research over 12 to 18 months, and may explore a variety of subjects, including economic benefits, market barriers and community-based projects.
For example, 2020 Net Zero Fellow Mark McKechnie of Oregon Architecture, Inc., used funding from the fellowship grant to research cost drivers associated with net-zero affordable housing in rural Oregon. Based on his research, McKechnie is creating resources that developers, designers and construction teams can use to evaluate and then rate a range of energy-saving options according to cost of construction and return on investment.
In the coming weeks, Energy Trust will announce this year's grant recipient, the 2021 Net Zero Fellow. To help select this individual, Energy Trust assembled a panel of experts specializing in net zero design and energy analysis and efficiency in new construction sectors. This year's Net Zero Advisory Panel includes the following members.
Andrea Caudill, Carbon and Energy Strategic Planner, Port of Portland
Clayton Crowhurst, Housing Developer, Northwest Housing Alternatives
Erica Dunn, Director of Design, Green Hammer
Ihab Elzeyadi, Professor and Director of Graduate Studies, University of Oregon School of Architecture and Environment and 2018 Net Zero Fellow
Jay Olson, Commercial Senior Program Manager, Energy Trust of Oregon
Jeni Hall, Solar Project Manager, Energy Trust of Oregon
Joel Good, Senior Consultant, RWDI and 2018 Net Zero Fellow
Mark Perepelitza, Principal, SERA Architects
Rohini Srivastava, Senior Researcher, American Council for an Energy-Efficient Economy
Energy Trust thanks these individuals for their time and expertise and for their dedication to advancing net zero research.
The Net Zero Fellowship Grant is one of two grants supporting professionals who help make net-zero buildings possible. Energy Trust also offers grants to architecture and engineering firms to employ interns to support each firm's AIA 2030 commitment. Learn more about each grant here.