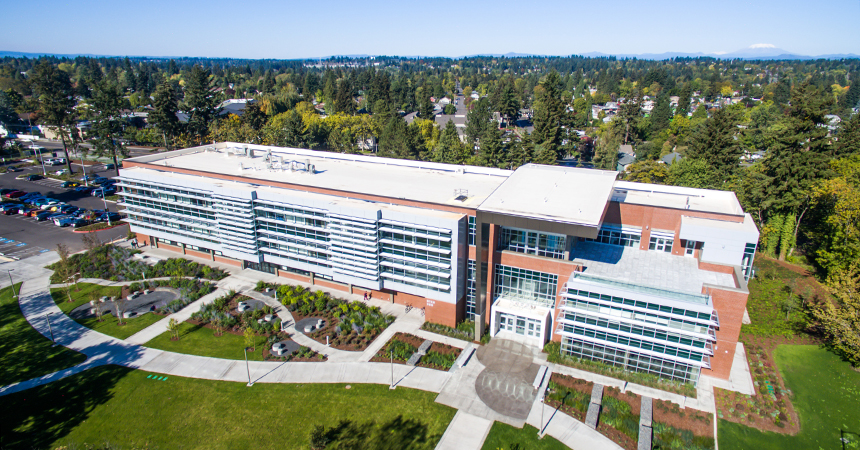 Photo credit: Clark College  
"Sustainable is attainable" is the driving force behind Clark College's Facilities Services team, according to Timothy Petta, director of facilities services. Petta manages facility maintenance and capital projects across the 810,000-square-foot college campus in Southwest Washington.
Established in 1933, Clark College has always put sustainability at the forefront of their mission. In 1985, the college applied for and received water rights allowing the campus to use geothermal technology for air conditioning. This early endeavor of energy conservation was the impetus of the college's sustainability team. The campus now encompasses 26 buildings and Petta's team continually looks for opportunities to make the campus as energy efficient as possible.
The road to savings hasn't always been easy. Petta believes a barrier to making energy upgrades is proving energy efficiency is attainable and can lead to significant cost savings. Working with Energy Trust of Oregon has made his position on the school's Facilities and Master Planning Committee, where he reports on major projects, a bit easier. "Over the years we've been able to prove the benefits of energy efficiency and make a good case for why we should invest in more energy-efficient improvements" said Petta.
Clark College has worked with Energy Trust and NW Natural on more than 10 projects ranging from new foodservice equipment to tankless water heaters to high-efficiency boilers and even a custom demand control ventilation project. These projects have reduced the college's use of natural gas by an estimated 30,100 therms annually, improved their return on investment and allowed them to implement additional campus improvements.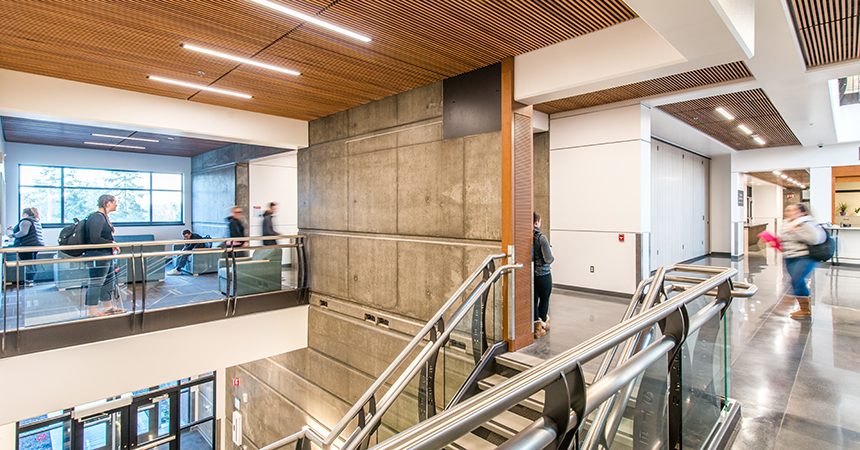 Photo credit: Clark College  
"I think we have an obligation to show the younger generations and other staff the importance of saving energy. It's also just a good business decision," said Petta. Saving energy and money holds true at Clark College—since 2006 the campus has added three buildings totaling 200,000 square feet and hasn't seen an increase in utility bills. The energy savings from the newly installed equipment has helped offset the energy costs of the growing campus.
Clark College also received Energy Trust cash incentives, made possible by NW Natural customers, for participating in Building Operator Certification (BOC) training. BOC is a national program that trains and certifies building operators on the latest technologies and strategies for maintaining equipment, increasing occupant comfort, improving energy efficiency, and reducing energy costs. This nationally recognized certification gives building operators the skills and tools to help reduce energy operating costs by more than 2% in their buildings.
Two Clark College maintenance employees took advantage of the program prior to the COVID-19 outbreak. Their training helped the team understand how to operate building systems more efficiently and optimize energy use to avoid waste. Thanks to their BOC training , the maintenance team was able to quickly shift operations and reprogram their systems to shut off most of the year when the campus was closed in response to the pandemic.
Partnering with Energy Trust before beginning a project has been key to the college's success. "The best thing our Energy Trust energy advisor told us was that if you don't see the equipment listed, just ask and they can work with you to develop a custom solution," said Petta. "The relationship we've had with Energy Trust and the projects we've been able to complete—even though it may seem difficult at times —have been a great benefit to Clark College over the years. I would urge any entity to participate in the program and pursue energy efficiency improvements."
For more information on existing building property upgrades, call 1.866.605.1676 or email existingbuildings@energytrust.org.