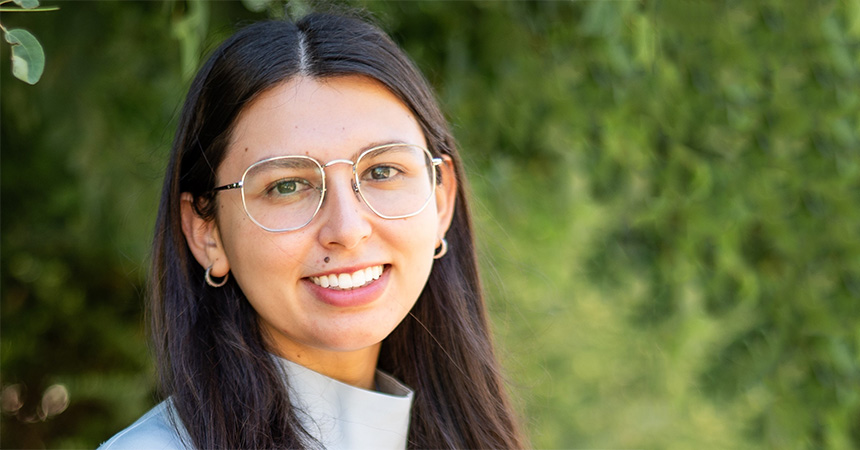 Karla Flores Jaime is a mechanical engineer at SSOE Group, an architecture and engineering firm that designs manufacturing facilities for the automotive, pharmaceutical and semiconductor industries. She has also been an active member of the Society of Hispanic Professional Engineers (SHPE) since 2016 when she began studying engineering at Portland State University. She now serves as SHPE Oregon Professional Chapter's president, continuing to pay it forward by supporting other Hispanic engineers.
Q: Tell us about yourself and your career. How did you get into the field of mechanical engineering?
I decided to study engineering in college because math and science came naturally to me (although I still had to work hard) and it felt like a good career choice. It was just me and my mother after my freshman year of high school in San Diego, and I wanted to be able to do something that would challenge and stimulate me and provide a secure future.
I attended the engineering program at Portland State University, which is very challenging. It takes most students at least five years to complete it. But I was determined and supported by fellow students and mentors at SHPE.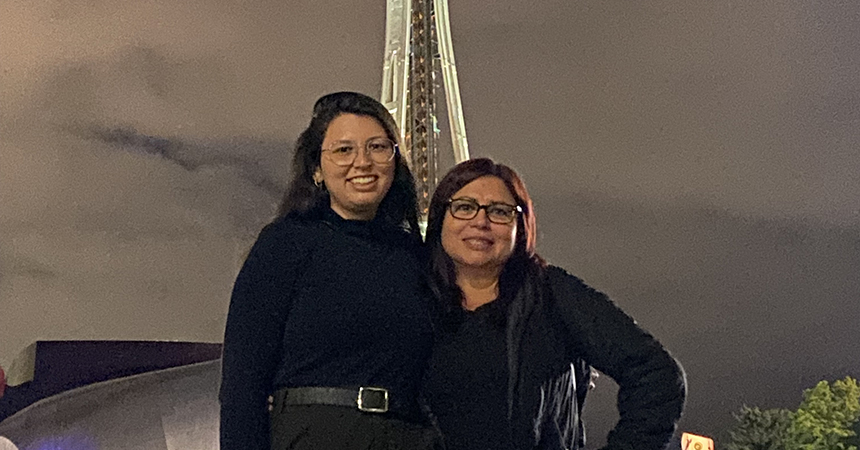 Karla and her mother in Seattle
Q: How was your involvement in SHPE helpful in your engineering studies?
I feel lucky that I found SHPE early on at Portland State. There's an immediate camaraderie with people who share not just your interests, but your background and lived experience. It's a very supportive group. And, when you're initially overwhelmed by all the things you're learning in college, it helps to talk to people who've succeeded in your chosen field. It makes you realize it's possible and builds excitement for the future.
Q: Have there been challenges as you've embarked on your career as well?
Moving from being a student to starting my career had its challenges in terms of how a work week is structured versus college classes. It was also challenging to get familiar with a new company culture. Fortunately, the teams at SSOE work so well together — it's been really satisfying to work on large projects and be a part of creating the facilities for important industries in Oregon and other places.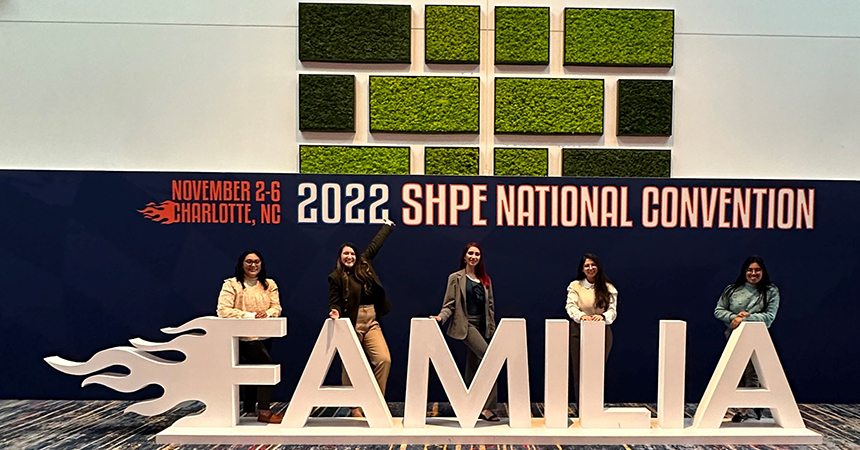 Karla and colleagues at SHPE National Convention
Q: Why do you continue your involvement in SHPE? What are you getting out of it now that you've begun your engineering career?
While I was still an undergrad, I chaired the committee that puts on the regional SHPE conference, which was a deep dive into learning real-world skills — scheduling, budgeting, planning and so many other things. It was a real confidence and aptitude builder, and I made some great friends and professional connections in the process. It was also nice to have that work on my resume as I started looking for jobs after graduation.
I stay involved as a SHPE officer because it's still a community that I get a lot of support and camaraderie from, and because I want to give back. The meetups are always gratifying, and mentoring Hispanic students is important to me. We host workshops and events that support professional and personal development, such as a recent workshop on personal finances. Providing these resources to first generation students and professionals is so crucial because many are the first in our families with the ability to not only save, but to invest.
Q: Do you have any advice for people of color and/or women entering your field? 
I would say remember that there is a place for everyone at the table. Find mentors and a community who understand your experience or at least have a strong appreciation for it. In SHPE OR we use "Lift as you climb" as a reminder to help the younger generations achieve their engineering goals as older generations have helped us.