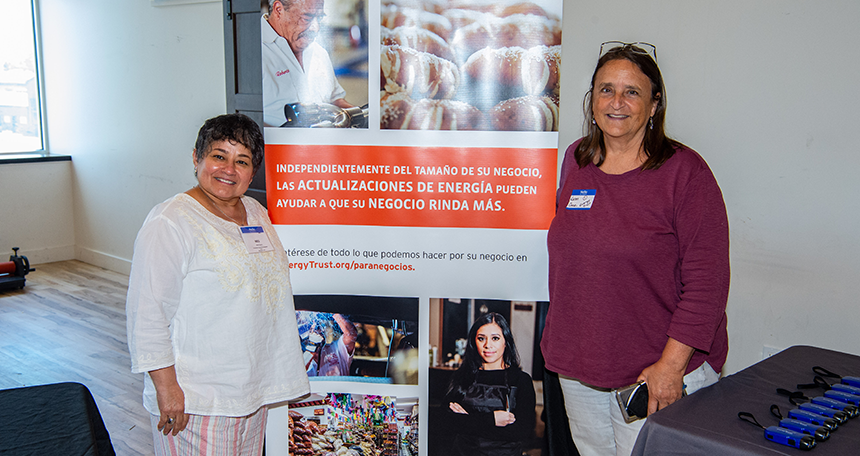 Energy Trust's vision of clean and affordable energy for all can only be achieved by engaging with and understanding the needs of all its customers – particularly those historically overlooked by the clean energy industry.
In 2018, recognizing that people experiencing low to moderate incomes, customers living in rural areas, and members of the Black, Indigenous and people of color (BIPOC) communities had been underserved, Energy Trust began including diversity, equity and inclusion (DEI) goals in its annual and long-term plans.
Its DEI plan – a living document focused on community outreach and engagement – was developed with input from staff, advisory councils, board members, stakeholders and community partners. Staff also sought direct feedback from contractors, customers and community members during a series of summits. The concerns and ideas expressed during those listening sessions were instrumental in selecting the plan's five goals and metrics to track progress.
Though the goals and outcomes listed in the plan are multi-year commitments, the steps taken so far this year represent meaningful progress toward impactful community engagement. A complete report on progress is included in Energy Trust's Quarter Two 2023 Report.
Goal 1: Increase Representation and Readiness
To support Energy Trust's commitment to engaging with diverse communities respectfully and effectively, staff members have attended cultural awareness events and trainings, invited members of diverse communities to share their experiences at staff meetings, and hosted internal discussions on DEI topics.
Goal 2: Shift and Share Leadership and Power
To increase the influence of community members in designing and implementing Energy Trust programs, Energy Trust is collecting feedback from customers to inform new offers and including community members in its Tribal Working Group and Diversity Advisory Council.

Goal 3: Increase Community Capacity and Investment
To support a diverse range of businesses, in the first half of 2023 Energy Trust allocated 33% of expenditures to subcontractors on contracts of more than $100,000 to Emerging Small Businesses, 37% to Women Business Enterprises and 38% to Minority Business Enterprises as certified by the state's Office for Business Inclusion and Diversity.
Goal 4: Increase Transparency and Accountability
To increase transparency and community understanding, Energy Trust will seek to surpass the equity metrics set by the Oregon Public Utility Commission. (Results will be reported in Energy Trust's 2023 Annual Report.)
Goal 5: Deepen Engagement in BIPOC, Low-Income, and Rural Communities
To open lines of communication and cultivate confidence in Energy Trust, 23 engagement activities have been completed or are underway with community-based organizations serving residential and business customers.
Learn more about Energy Trust's commitment to diversity, equity and inclusion.