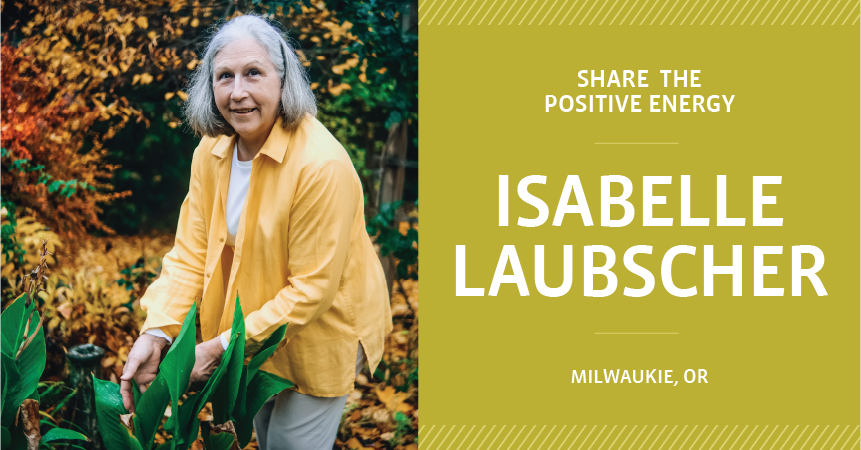 For Isabelle Laubscher, it's easy being green, whether she's working in her garden or making energy-saving choices for her Milwaukie home. When Isabelle needed a new gas furnace, she received increased incentives through Energy Trust of Oregon's Savings Within Reach program.
Savings Within Reach makes energy-efficient home improvements more affordable. Isabelle qualified for incentives that are higher than standard, which allowed her to get the high-efficiency gas furnace she wanted while staying within her budget.
"The incentives are a no-brainer for those of us on a strict budget. I'm doing all the right things to keep my home and investment in shape," she said.
Living efficiently is nothing new for Isabelle, who moved to Oregon in 1978 and has proudly raised her family to value sustainability. "I'm trying to set an example for my grandchildren, who are conscientious about the environment. By doing that, they become aware of how important it is."
Isabelle bought her home in 1993, and like most updates she's made, she chose her furnace with both the environment and her investment in mind. The new furnace saves energy, helps to lower her heating costs and is much more reliable than her previous system. She also sees it as a selling point if she eventually decides to put the home on the market.
One thing Isabelle really appreciated about her experience was how smoothly it went. She worked with an Energy Trust trade ally contractor who helped her receive the full incentives available for her furnace, and she also saved on a new Google Nest thermostat.
"I felt so taken care of and respected," Isabelle said. "It was such a wise investment at this stage of owning my home, and it was a very easy, rewarding process."