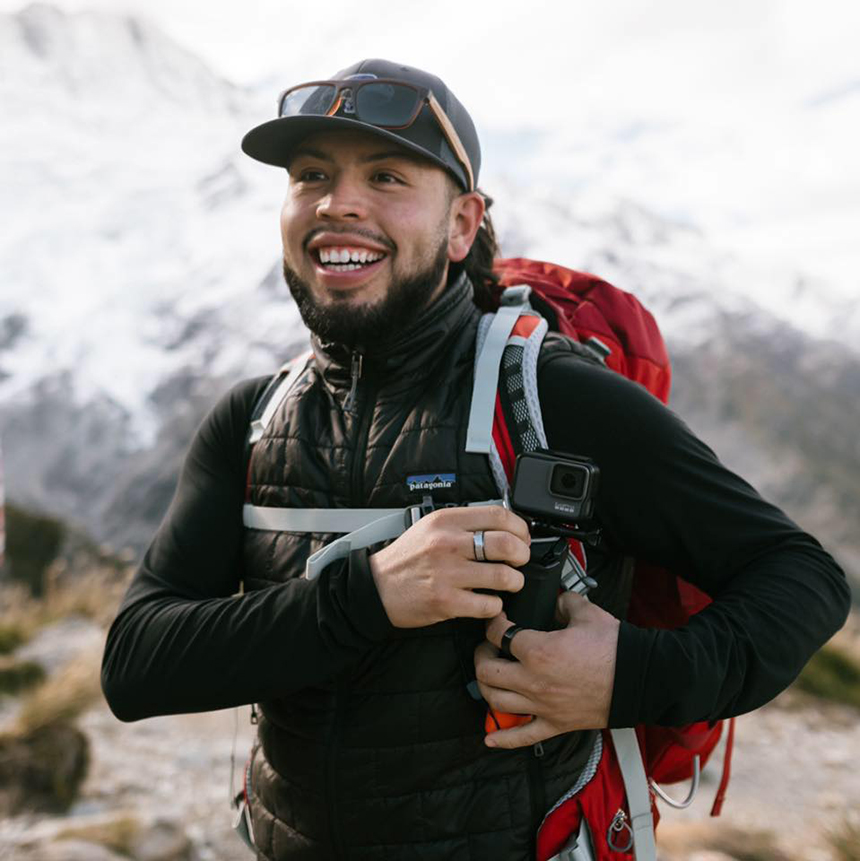 This is a part of a series of blog posts amplifying community voices. 
Zavier Borja is the community relations manager for the City of Bend and founder and former program coordinator of Vámonos Outside, a nonprofit organization in Bend connecting and inspiring the Latinx community to explore the outdoors in Central Oregon. Growing up in Madras, as a first-generation Mexican American, Zavier recognized cultural and accessibility barriers preventing his community from experiencing the benefits of the outdoors. In his current position and as a member of the Bend Parks Board, Borja continues to empower the Latinx community to feel like they belong in the outdoors and build equitable access. 
Q: Tell us about yourself and your work. What inspires you? 
I got my start with the Bend Boys and Girls Club and Bend Parks and Recreation District in sports enrichment and the youth department. From there, I worked as a mentor specialist for at-risk youth at Summit High School. I then spent two years in San Francisco working as a regional coordinator for an outdoor nonprofit, Education Outside. It was through this position that I discovered my deep desire to serve as an ally and amplify marginalized voices. This is what brought me back to my community in Oregon, where I started a local chapter of Latino Outdoors, a Latinx-led organization working to create a community of leaders in conservation and outdoor education. The huge interest in this work and the obvious need for this program is what led me to create Vámonos Outside.  
Q: What does "sustainability" mean to you and the community you serve? 
I think "sustainability" is one of those buzzwords the outdoor industry leverages to sound good, but they are greenwashing or making themselves sound environmentally conscious. When it comes to protecting the environment, the word "stewardship" resonates with me more. The communities I work with have been reusing and recycling long before it was called "sustainable living." It's almost a cultural meme in Latino culture at this point, where if I opened a tub of butter, like Betty Crocker, there would be salsa inside. It's those little things that I think of as stewardship.  
Q: How does your organization address issues around equity? 
We address issues around equity by existing. There are lots of different organizations serving similar needs, like Outdoor Asia or Outdoor Afro, and there's a reason why they exist: there are inequities within the system. Just the existence of Vámonos Outside speaks volumes to addressing these inequities, specifically with Latinx communities in Central Oregon. My dream is that this program can be replicated statewide and eventually nationwide. 
Q: What are the biggest challenges your organization is currently facing in your community?  
As a society, we face lots of challenges like a lack of affordable housing, racial inequities, and the impacts of more intense fire seasons. One "new to me" challenge is the gentrification of rural areas as Bend becomes more urban. Living in San Francisco, I came to understand what gentrification looks like and how it is growing at a very fast pace. We are now starting to see this slowly happen in Central Oregon.  
Organizationally, the biggest issue for Vámonos Outside has been the pandemic, which has made it difficult to bring large groups together. Another challenge has been working with other organizations. Conceptually, they understand what we do and want to help move this diversity, equity, and inclusion work forward. But I think there are a lot of folks, especially white folks, leading organizations that are having a tough time being flexible with not following the exact mold of how things are typically done. I've had a lot of frank conversations with these organizations about why they are not reaching these communities. For the most part, folks have been receptive to our conversations, but it can be difficult and exhausting to convince people how to reach these communities.  
Q: If you had unlimited resources, what is the one thing your organization would focus on that you may not currently be able to? 
With unlimited resources at Vámonos Outside, I would focus on staffing. I would love to have more staff, but there's a level of competency needed for these positions. There is a right person for each role, and it takes time to either train them or create a pipeline to have someone lead or serve the needs in this capacity, especially in this area. I get asked to sit on boards, committees and go to lots of meetings. Organizations want my perspective and want us to share the table with them, but we can't do all of this and our work simultaneously.  
I am focused on leading and building the capacity for other folks to lead. More than resources, I need authentic connections with the community, people that understand the community, reflect the community and will listen and serve the needs of the community. The resources are there, but there's a disconnect between the community and the people who have the resources. 
Q: What do you wish everyone knew about this work?  
Organizations get so caught up in their metrics and in seeing results from this work. Metrics and results are important, but not at the initial steps of these projects. Building community connections and trust takes time—a long time. And that's okay. It can take two to five years to see connections come to fruition. And building those connections might mean me literally showing up at parent night at a school for two years and not asking for anything. It's been difficult during the pandemic because everything is virtual, but hopefully, we can do that a lot more as we move to more in-person meetings. 
I wish folks would trust that we understand how to best serve our community and offer us their support. Organizations hire us because we know what the community needs, and that's why you want to work with us, so don't micromanage or be afraid to lose power.  
Q: Any last thoughts? 
Donate and self-educate. My inbox, and many others who do this work, get flooded with tasks and questions about diversifying boards, hiring people of color, verbiage on job applications, and more. That's great, but it is not my job, and it takes away time for other things. We live in an information world, so I think the biggest thing is to self-educate. If you're from Oregon, educate yourself on the history of Oregon, where you can see the progression and displacement that has affected this area and the barriers that were put in place.