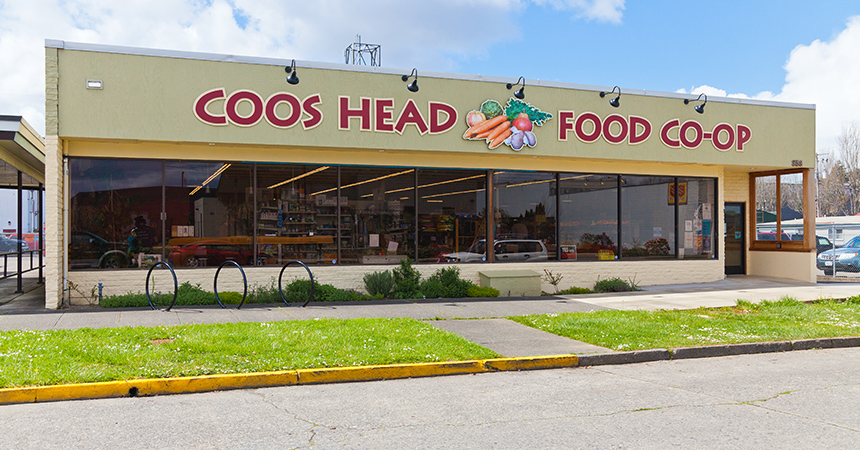 This April, Coos Head Food Co-op celebrated its new energy-efficient store in downtown Coos Bay. Part of the Coos Bay business community for more than 40 years, the co-op made the move to downtown Coos Bay last fall into a much larger building with modern equipment. The new and improved co-op supports the downtown Coos Bay revitalization effort. Even with triple the shelf space and more freezer and refrigerator space, the co-op's energy bills are nearly the same as the previous, smaller store.
Coos Head Food Co-op, a Pacific Power customer, opened its doors to community members and leaders for a tour of the facility, including Coos County Commissioners Melissa Cribbins and Bob Main, Coos Bay Mayor Joe Benetti, Coos Bay City Manager Rodger Craddock and Energy Trust of Oregon Executive Director Mike Colgrove. Mike Colgrove presented the Coos Head Food Co-op with a big check of $16,792 for its commitment to energy efficiency, including LED lighting, smart refrigeration systems, ductless heat pumps and a water heating recovery system. Energy Trust also provided incentives for solar-ready design, so the co-op can easily install solar down the road. With the help of Energy Trust trade ally Sol Coast Consulting and Design LLC, these energy-efficient features are expected to cut the co-op's annual energy expenses by more than $6,500.
"By saving energy, we're able to redirect more funds to our core mission—contributing to the health and well-being of our community," said Deb Krough, manager, Coos Head Food Co-op. "We appreciated the technical assistance and guidance from Energy Trust that helped make this happen. Membership is growing and we're proud to be a part of our community's ongoing downtown revitalization efforts."
Learn more about how Energy Trust works with small businesses and planning for solar.