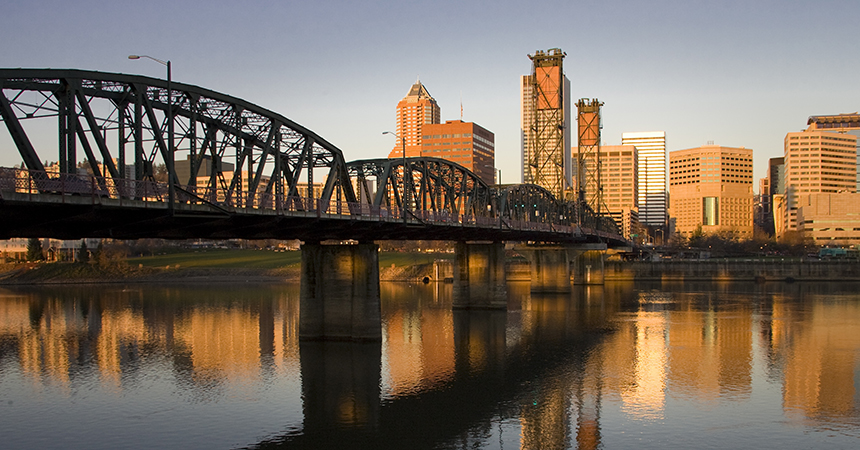 At the Portland City Council meeting on March 15, Energy Trust celebrated the Portland Water Bureau's new energy-efficient water pump station with a check for nearly half a million dollars. The new Hannah Mason Pump Station helped cut annual energy costs by nearly $163,000 and contributed to City of Portland's Climate Action Plan goals.
The 1912 Fulton Pump Station is the Portland Water Bureau's single largest use of electricity, pumping up to 14 million gallons up Portland's Southwest hills every day. The pump station supplies water to much of Southwest Portland, including residential and business customers, 10 Portland Public Schools, the Portland Community College Sylvania Campus and more than 30 parks.
Energy Trust provided cash incentives and technical assistance for the new Hannah Mason Pump Station, helping the Water Bureau save an estimated 2.37 million kilowatt hours annually—equivalent to the amount of electricity used by 200 Portland homes in a year.
"The new Hannah Mason Pump Station supports a citywide goal of reducing energy use by 2 percent," said Mike Stuhr, administrator at the Portland Water Bureau. "Energy Trust's assistance allowed the city to make a major contribution to meeting these goals with an investment that will pay for itself in only 3.3 years."
"We commend the Portland Water Bureau for seizing the opportunity to rethink how to efficiently deliver water to the residents of the city's west side," said Michael Colgrove, executive director of Energy Trust. "We're excited to be part of this project that not only saves energy, but also improves the overall quality of the pumping system while providing benefits to both water and electricity ratepayers."
The City of Portland has been working with Energy Trust to save energy and money for many years at buildings and facilities across Portland. The city has saved or generated enough electricity to power more than 4,600 homes and enough natural gas to heat 470 homes. These investments are savings the city millions of dollars every year on utility bills. To date, the Portland Water Bureau has completed 59 energy efficiency projects alone and received more than $2.2 million in cash incentives and other services.