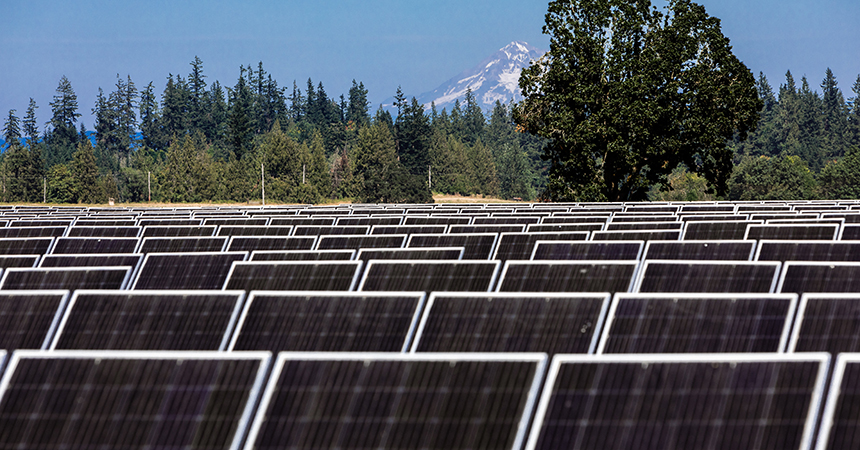 Like the Portland Trail Blazers' Damian Lillard, Oregon's 81st Legislative Assembly passed and scored late-in-the-game clean energy and energy equity bills. Included in that slate is a law that modernizes and extends the public purpose charge, Energy Trust of Oregon's core energy efficiency and renewable energy funding.
The public purpose charge legislation (House Bill 3141) passed with bipartisan votes and support from Gov. Kate Brown, energy efficiency and renewable energy advocates, electric utilities, and consumer, community, environmental and equity-focused groups. Its passage reaffirms the value of the public purpose charge while modernizing it to fit today's needs of utility customers and the energy system.
Energy Trust is one of three entities that currently invests the public purpose charge on behalf of Portland General Electric and Pacific Power customers. The public purpose charge was the original funding for Energy Trust when the organization opened its doors 2002 and now provides about one-third of the organization's annual budget.
Energy Trust invests the funds in cost-effective energy efficiency and small-scale renewable energy systems that deliver bill savings, and health, comfort and economic benefits.
HB 3141 ensures funding through 2035 for Energy Trust to support rooftop solar, biopower and small hydropower systems. The new law now allows Energy Trust to use these funds for projects that improve the reliability and resiliency of the electric grid and requires Energy Trust to invest 25% of the funds to serve low- and moderate-income customers.
The law moves electric efficiency funding from the public purpose charge into the standard rate-making processes used by the Oregon Public Utility Commission for PGE and Pacific Power. This change streamlines the energy efficiency planning process at Energy Trust. It also is a recognition that energy efficiency is an energy resource like any other a utility plans for, purchases or generates for its customers. This change effectively removes any sunset on the efficiency funding.
Importantly, HB 3141 directs the OPUC to set equity metrics for all funds invested by Energy Trust—the renewable energy and electric efficiency described above and gas efficiency funding, too. The metrics will help ensure equitable investment of the funds for customers who have historically not benefited from them.
In addition to these changes affecting Energy Trust, the bill increased funding for weatherization of low-income customers' homes by Oregon Housing and Community Services, allows OHCS to spend its public purpose charge funds on manufactured home replacement and continues funding for affordable housing and energy conservation projects at K-12 schools.
While the changes to the public purpose charge take effect January 1, 2022, the OPUC is expected to start identifying processes this year to implement the energy efficiency and renewable energy pieces of the bill.
The 2021 legislative session considered many energy and energy equity pieces of legislation. Bills that passed the legislature included:
Moving the state toward 100% emission-free electricity by 2040
Allowing for the new weatherization opportunities and potential reduction of energy rates for low-income utility customers
Expanding access to electric vehicles and charging infrastructure for solar electric and battery storage systems
Dedicating funding to support energy-efficient building practices as homes and businesses are rebuilt after the 2020 wildfires
Increasing the efficiency levels of a dozen common appliances and products
For a summary of all energy-related legislation considered by the Oregon Legislature, read the Oregon Department of Energy's 2021 Legislative Session Report.