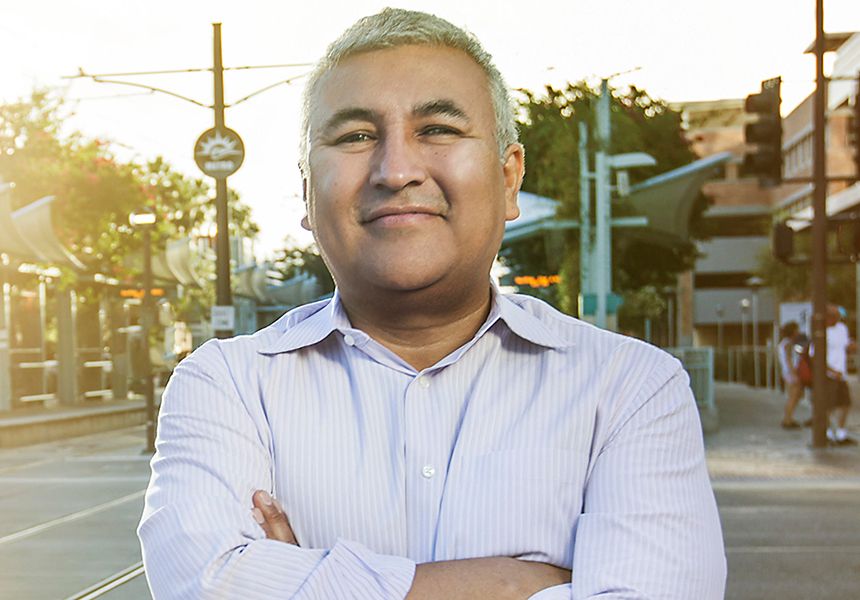 This is part of a series of blog posts amplifying community voices.
Hacienda Community Development Corporation has more than 380 affordable housing units, mostly in the Portland area. With several properties in development, it will more than double that number in the next three years.
But that still won't be enough to meet the housing needs of its community, says Ernesto Fonseca, executive director and a member of Energy Trust's board of directors since 2018.
Based in Northeast Portland, Hacienda CDC provides affordable housing, homeownership support, economic and educational opportunities to Latinx, Black, Indigenous, immigrant and low-income households most at risk of displacement. In 2020, its staff quickly pivoted to help residents cope with insecurity brought on by COVID-19, delivering more than $1.9 million in relief funds.
We talked with Fonseca about the challenges of 2020, increasing affordable housing and how energy efficiency can create healthier homes.
What are some of the biggest challenges facing the people and families Hacienda supports?
EF: That is a huge question. The issues that communities of color and the immigrant community are facing are food insecurity, housing insecurity, energy burdens, transportation issues—all of those issues have been there for a long, long time. Last year these issues were magnified, especially around food insecurity.
One of the things we noticed almost immediately is that many families count on the school hours—so their kids can go to school, be fed, so they, the parents, can go to work and earn income. When you take out the schools altogether, many other issues start to come up. Employment became a challenge; income was reduced; and other expenses grew as families spent more time at home.
How did Hacienda respond to these emerging needs?
EF: We've been working very closely with our residents and the greater community to support them with cash assistance, rental assistance and food assistance. The process was really ad hoc. The pandemic caught everybody by surprise, and the lockdowns had ripple effects for the economic, employment and education systems and obviously for business as usual.
One of the community's first significant concerns was the uncertainty with their rents and housing and what would happen. We took these concerns very seriously, and the first executive action we took at Hacienda, before the state, county, the city and anyone else, we put an eviction moratorium in place and reassured our residents that until we figured something out, no one would be evicted for any reason unless it pertained to criminal activity. Eventually, we received funding from our local government agencies. For most residents, we covered 100% of their rent arrears. Most households received support from more than one source like Oregon Housing and Community Services, Portland Housing Bureau and the county.
Another significant initiative we implemented right away was to establish a food distribution hub. We contacted Guadalupe Guerrero, Portland Public Schools superintendent, to discuss another issue on our hands: many families don't have the resources to provide food for the entire day. Can we partner in delivering meals for our residents? They agreed on partnering with us, and in no time, we had food trucks from PPS coming to our office headquarters delivering breakfast and lunch every single day.
The third thing we did was provide families with some cash assistance from our local government, foundations and ourselves to help them transition and find a way forward for a few months.
Hacienda CDC properties in the Portland area and Molalla provide housing for 1,600 people, and you've worked with Energy Trust over the years to make these units more energy efficient. How does energy efficiency help keep housing affordable and safe? 
EF: Owning a home is expensive, and the most significant expense is the mortgage. However, regardless of owning or renting, utilities are the second greatest expense. Starting with your energy bills, this is one of the most significant expenses in housing.
In my previous life, I analyzed energy efficiency and the consequences of not having housing that's very well equipped to keep you healthy. [Fonseca has a doctorate in environmental planning focusing on thermal comfort and health.] In Oregon, we just saw that heat can kill you, but this is nothing new. Thermal comfort is something we undervalue. It's not just about being comfortable—not sweating or not being too cold—it's about public health.
If you're sleeping and it's too hot, you won't be able to sleep well. If it's too cold, you won't be able to sleep well. For children or older adults, their physiological abilities to regulate body temperature is limited and slow. In that case, you won't keep up with the swings in temperature, which takes you to hyperthermia or hypothermia—your body doesn't react on time, and you die; that is in the worst-case scenario. In the best-case scenario, you won't be able to have a good quality of life. That lack of sleep and lack of comfort means you don't have the space to be productive, get the best grades you can get and be happy; it increases your chances of obesity and heart disease.
In terms of energy efficiency, you can provide a space that is comfortable at a reduced cost compared to a unit that is poorly insulated, poorly designed, has no efficiencies whatsoever, where you're running air conditioning or heating unit day and night, and you still don't find comfort. It's essential for us to understand that significant link, not only in terms of energy efficiency and dollar savings but also really a quality of life.
State lawmakers this year allocated Hacienda $1 million to fund Small Homes NW, a pilot to develop accessory dwelling units for income-eligible homeowners. What can you tell us about that?
EF: We're putting together a pilot program to develop accessory dwelling units, small homes in backyards. The state funds were allocated to Hacienda directly, and we're going to be investing them across the state in 10 to 20 affordable housing units with qualifying individuals. We will focus on people with disabilities, people of color and people in rural communities.
We're just in the process of selecting properties, homeowners and partners. The idea is for parents with older children struggling to pay for college or rent to move out on their own, they can welcome their kids into those units. Or if your parents are elderly, you can house them in that unit, and they retain their independence and remain nearby. And if you don't have any of those needs, you can rent that accessory dwelling unit to increase your income. So, you're either saving money or earning money. In addition to that, we will be increasing the density of those communities by having more people per square mile and therefore reduce transportation needs.