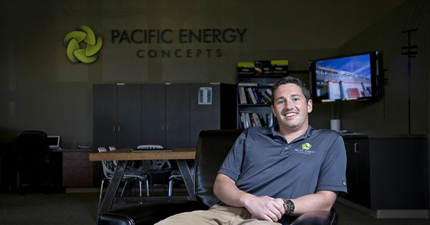 Pacific Energy Concepts, an energy conservation company specializing in comprehensive lighting projects, has been an active Energy Trust trade ally contractor since opening its doors three years ago. Located in Vancouver, WA, Pacific Energy Concepts works mainly in the Portland Metro area but is also involved in projects across the nation.
"When our company opened up, we immediately started the process to become an Energy Trust trade ally," said Keith Scott, president and founder. "They provide excellent support for companies like ours. As a business decision, it makes sense to focus our efforts on an organization where our projects will receive the greatest support."
Pacific Energy Concepts operates with a local staff of nine and two remote employees in Seattle, completing 80-100 projects per year within Energy Trust service territory. Ninety-five percent of the business's projects are focused on interior and exterior lighting, utilizing advanced control systems.
Pacific Energy Concept's comprehensive approach to lighting projects provides commercial and industrial customers with increased annual energy savings and a solid return on investment. "Energy Trust incentives are impactful for customers in the end, helping with a speedy return on investment," said Scott.
The company is currently wrapping up a project with a manufacturing business in Portland. "The manufacturing plant has undergone a complete upgrade of its interior and exterior lighting. Once completed, this project will utilize a system that allows all lighting systems in the buildings to be wirelessly controlled and automated. The annual savings are expected to be in the six figures, but the best part is how user friendly the interface is," said Scott.
Find out more about Pacific Energy Concepts on their website.