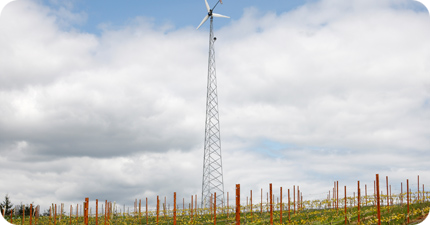 Located in Oregon's central Willamette Valley west of Salem, Polk County was named for James K. Polk, the eleventh President of the United States. While its county seat is Dallas, much of the county's population is in the West Salem area. It is also home to Western Oregon University in Monmouth. From its founding through September 2012 Energy Trust has provided more than $4.2 million in incentives to utility customers in Polk County. This support has helped customers perform energy-efficiency upgrades at more than 6,800 residences and more than 160 commercial and industrial business sites, resulting in saving nearly 9.6 million kilowatt hours and 286,000 therms of natural gas.
Polk County has also taken steps to facilitate investment in renewable energy and energy efficiency. In 2009 the county amended its zoning ordinance to specifically allow noncommercial small wind and solar electric power systems. "Polk County wants to encourage and make it easier for residents to take advantage of wind and solar energy," said Jerry Sorte, planning supervisor, Polk County. "The ordinance also benefits the county because it streamlines the application process. By simplifying the process for systems that are straightforward, we expect to save money in the long run."
Because of the friendly environment for renewable energy and with help from Energy Trust of Oregon, projects like Bjornson Vineyard's small wind installation have been successful. Mark and Pattie Bjornson installed a 10-kW wind turbine on their vineyard in the Eola-Amity Hills. The wind turbine supplies a significant portion of the power needed to grow and harvest their grapes. "We're very pleased with the output of our wind turbine," said Mark. "As a small business, we couldn't have made this investment without financial help from Energy Trust and government agencies."
Find more information on Energy Trust services and incentives.