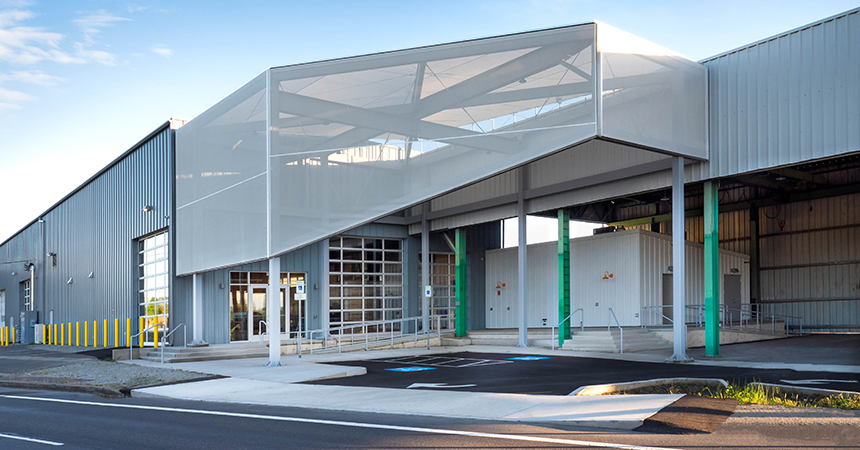 If you live in Central Point, Oregon and like to dream big, CraterWorks makerspace is the place for you. This unique building is the result of a major renovation emphasizing sustainability and energy efficiency. It now provides a gateway for students and community members to learn new skills, share tools, collaborate and bring ideas to life.
From woodworking and digital fabrication to metalwork and graphic design, if you can think it, you can do it at CraterWorks. It's no surprise that a building that focuses so much on creativity also has a thoughtful, sustainable design, and Energy Trust of Oregon was happy to lend support.
"Being sustainable, energy efficient and reusing materials allowed us to avoid waste and really reflect excellent design. We want this building to inspire people," said Samantha Steele, superintendent, Central Point School District 6.
The school district owns the building, which underwent a transformation from its previous function as the Crater Iron warehouse. The cranes and other nods to the past still remain, but it's a whole new energy-efficient space.
To support the project, Energy Trust organized an early design charrette and provided $18,000 in cash incentives for energy-saving features such as LED lighting, infrared radiant heaters and high-efficiency kitchen equipment. These features combine to save an estimated $5,000 in energy costs each year.
Since opening in May 2019, makers have used the space for everything from blacksmithing and laser etching to building retro videogame consoles. Examples of student projects include printing 3D glyphs and a science class that examined soundwaves by building tin can banjos. CraterWorks also fosters growth for small businesses, providing equipment, creative workspaces and a full commercial kitchen.
"The part that's really exciting is it has something for everyone," said Taneea Browning, managing partner, CraterWorks. "Whether you're looking for a connection to your community, research and development, mentorship—you have everything under one roof."
Read our CraterWorks case study to learn more about this exciting project. And if you're planning a new building or major renovation to benefit your local community, be sure to check out our incentives and resources or call us at 1.877.467.0930.