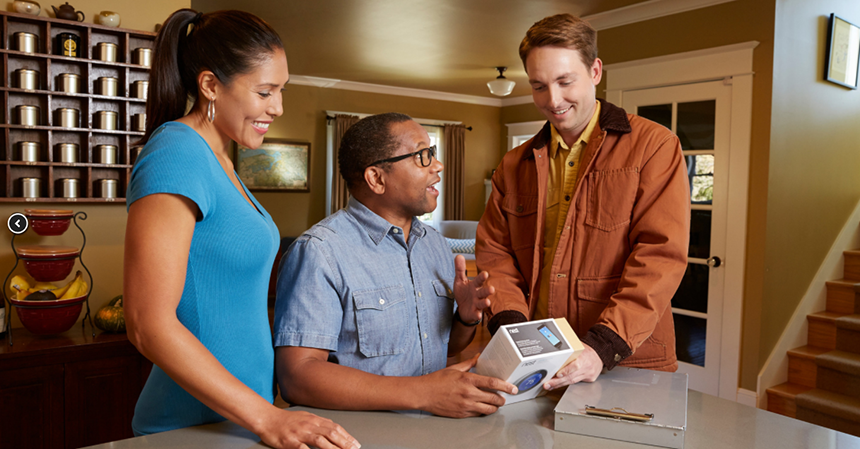 Since it's still heating season in the Pacific Northwest, here are some energy and maintenance tips to help keep energy costs down.
Turn down the heat
It may seem obvious, but turning the heat down is an easy-to-overlook step that can have a significant impact on energy costs. Setting back the thermostat in empty units or unused rooms is a great place to start, but a more efficient option is to install smart thermostats.
Smart thermostats use sensors to tell when a room is empty, and can be programmed to use daily schedules and local weather information to make energy-saving setting changes automatically. Energy Trust offers $80 cash incentives for qualifying models.
Check vents and filters
Preventative maintenance on forced-air furnaces and ductless heating systems can significantly extend the equipment's lifespan.
Be sure to check filters in forced-air systems monthly to ensure proper airflow. While inspecting and cleaning filters, check to ensure tenants aren't blocking heating units with furniture. The flow and efficiency of heating systems can be negatively impacted when supply and return vents are obstructed by furniture.
Also clean the filter on the indoor fan-coil unit of ductless pumps once a month to guarantee maximum air flow and efficiency. For ducted HVAC systems, replacement filters are recommended every one to six months depending on use.
Insulate hot water pipes
Uninsulated hot water pipes often make your water heater work harder than necessary to maintain the set water temperature. Insulating your hot water pipes reduces heat loss, giving your water heater a break and allowing you to save money on utility costs. Energy Trust of Oregon offers incentives of up to $4 per linear foot for domestic hot water pipe insulation.
Contact Energy Trust of Oregon for more energy saving tips and incentive information.
Call 1.877.510.2130, email multifamily@energytrust.org or visit www.energytrust.org/multifamily.