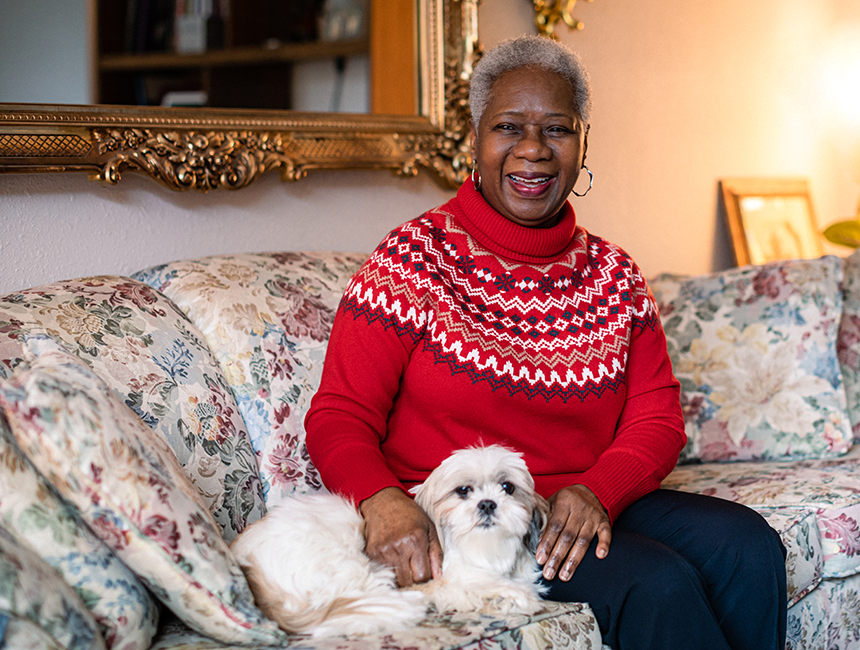 When Sammie Lewis' old heat pump stopped cooling her home in the summer of 2021, she was determined to find a solution. Her resolve eventually led to not only a new heat pump but also solar panels and other energy-efficiency upgrades that increased her home's comfort and put it on the path to net-zero energy use.
As a senior navigating a low income, Sammie was able to make these significant energy upgrades to her North Portland home thanks to the collaborative efforts of Community Energy Project (CEP), Portland Clean Energy Community Benefits Fund (PCEF) and Energy Trust of Oregon.
"I love my house—I love it so much. I just really hope I never have to move out of here. Especially since all the repairs and upgrades that have been done to make it energy efficient," said Sammie. "It's just comfortable in my home."
Unfortunately, her home wasn't comfortable when her cooling quit during one of Portland's hottest summers on record.
"When we had the high temperatures and then my heat pump went out, I was so nervous that it was going to really affect my health," she said.
After getting several expensive repair estimates, and investing in one repair that failed, Sammie turned to Community Energy Project for help.
Sammie knew and trusted CEP. She first connected with the Portland nonprofit about a decade ago when she needed some repairs to her house. After that initial encounter, Sammie made sure to take advantage of everything CEP offered.
"When they came out and helped me do things myself, it was just so enlightening. I really appreciated that, so I made it a point to go to their weatherization workshops every year," said Sammie.
This time when Sammie called, CEP representatives performed a diagnostic on her heat pump and determined it needed replacing. But they also saw this as an opportunity to make other upgrades to her home as part of a project to build housing resiliency for Black residents in north and northeast Portland, funded by a $800,000 grant from PCEF and leveraging Energy Trust incentives. They work with local contractors to provide no-cost retrofits that allow homeowners to remain in their homes. (Learn more about how CEP is working with PCEF to help homeowners.)
Along with a new heat pump, Energy Trust trade ally H.E.L.P (Home Energy Life Performance) added attic and floor insulation. The icing on the cake was a 6.08-kilowatt rooftop solar system, installed by Energy Trust trade ally Synchro Solar, that began producing clean power in May 2022.
Sammie was able to get all the needed repairs and upgrades at no cost thanks to the PCEF grant, combined with Energy Trust incentives and funds from the Portland Housing Bureau. One of the Energy Trust incentives she received was Solar Within Reach, an increased incentive that helps income-qualified homeowners go solar.
Solar combines with energy upgrades to zero out energy costs
Sammie was already interested in solar because she previously learned about the Oregon Community Solar Program through a CEP workshop and thought she might be able to participate. But she was excited to learn she would get her own solar project installed on her roof.
"I couldn't wait to see how it was going to affect my electric bill, and, I tell you, I have not had to pay for any electricity since the solar was installed," said Sammie. Instead, she built up a credit balance on her Portland General Electric account because of all the clean power her system produces—and how little energy her home now uses thanks to the heat pump and other efficiency upgrades.
"I kept looking at the bill and thinking it was incorrect. But I just kept getting credit balances, and then realized 'oh, this is real.' I love it," she said.
Sammie has noticed some changes on her bill with cooler winter temperatures, but she still has a large credit balance.
"If I have anything to pay when winter is over, it will be very little. I am so appreciative. It really helped my budget a lot," she said.
In addition to the bill savings, she also appreciates how the up-to-date heat pump and insulation have made her home much more comfortable year-round and eliminated cold floors in winter.
Sharing her experience with the community
Friends and neighbors took notice as Synchro Solar crews installed the solar panels, and Sammie is more than happy to share her experience.
"I believe in solar energy. It's sustainable. I like controlling my home energy use and getting clean energy. And I believe in having a healthy environment," said Sammie. "I advise everyone to get involved. Don't be afraid to just reach out and get information, get in the know and learn about it. That's what needs to be done."
Wondering if your home is right for solar and if you qualify for Solar Within Reach increased incentives? Request a free analysis and bid.