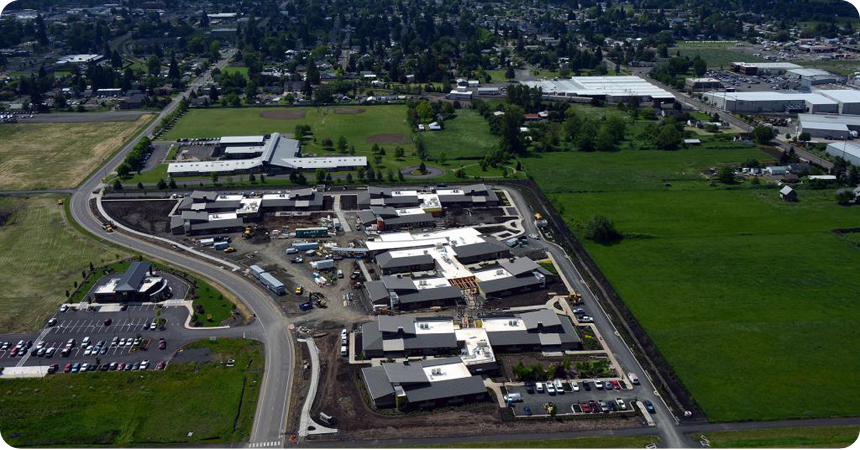 A new healthcare complex developed for the skilled nursing care of military veterans is designed to improve resident health and comfort, and save energy. The 133,000-square-foot Edward C. Allworth Veterans Home, located in Lebanon, features a 336-panel rooftop solar electric system as well as energy-efficient lighting, heating and cooling systems and kitchen appliances. Energy Trust of Oregon provided $114,109 in cash incentives toward the energy-saving investments.
Open since fall 2014, the 154-bed Allworth Veterans Home offers the amenities of a skilled nursing facility in 11 buildings that emphasize independence and community in a home-like environment. The 12-acre campus includes four neighborhood clusters of residential buildings, connected by a spine of shared program space, kitchen facilities and a community center.
The Allworth Veterans Home was designed to meet the standards of the State Energy Efficiency Design, SEED, program, which directs state agencies to include cost-effective energy conservation measures in new and renovated public buildings. The SEED program also requires public buildings to spend 1.5 percent of a construction budget on green energy technology. Allworth Veterans Home is served by Pacific Power and NW Natural.
"It is important to our team to design a beautiful community that offers high-quality care in a comfortable environment to honor the service and sacrifice of the veterans we'll be serving," said John Osborn, facilities and construction manager, Oregon Department of Veterans' Affairs. "The energy-efficiency measures are a critical part of the project to reduce our consumption and save on utility costs. Residents may not see any difference, but the funds we save can be spent in other ways that benefit their care."
The solar installation is the centerpiece of the property's energy strategy. With guidance from Energy Trust trade ally contractor Sunlight Solar Energy, Inc. of Bend, the Oregon Department of Veterans' Affairs opted for a roof-mounted system to take full advantage of building angles and solar exposure. With 336 solar panels spread across eight residential buildings on the campus, the 85.7-kilowatt solar electric system is estimated to generate 93,000 kilowatt hours of energy annually.
Energy use in a facility this size will be significant, according to Osborn. While the electricity generated by the solar panels at the Allworth Veterans Home will help offset energy costs, the Oregon Department of Veterans' Affairs invested in several other energy-efficiency strategies that are projected to save more than 32,000 kWh of electricity and 48,000 therms of natural gas annually. Learn more here.