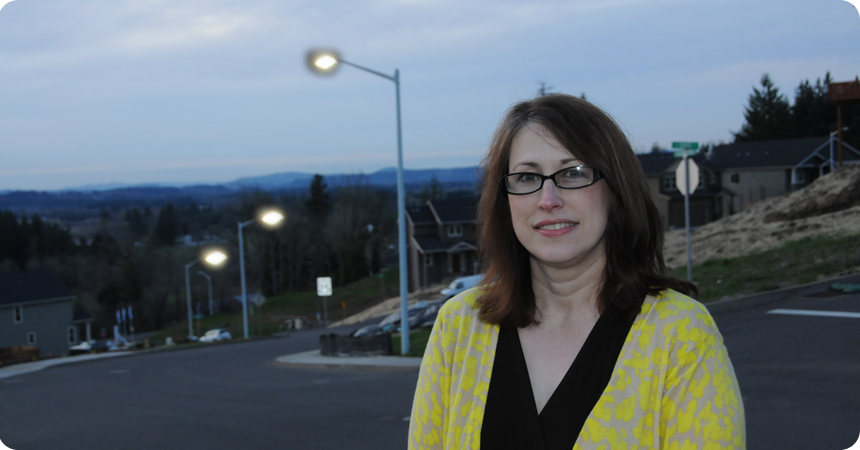 Especially on long winter nights, street lighting is essential for public safety and security along busy thoroughfares and quieter neighborhood streets. Throughout Oregon, more utilities and municipalities are upgrading to LED streetlights.
These long-living, energy-saving workhorses have come way down in price—while their light quality keeps improving. LEDs improve lighting quality and visibility while using less electricity and reducing maintenance costs. Utilities and municipalities can also factor street lighting into their strategies for saving energy, lowering costs and complying with sustainability requirements by upgrading to LED technology.
Estacada was the first city in the Portland metro area to work with its utility, Portland General Electric, to convert to LEDs. In the process of upgrading approximately 340 cobra head streetlights from HPS to LED, the city also began shifting ownership of all streetlights to PGE. "We're a small city and we don't have the staff or equipment to be in the streetlight business so this was a prime time to upgrade our streetlights and switch ownership options," explained Melanie Wagner, assistant to the city manager, City of Estacada. "It saves energy and is the responsible choice for sustainability." The upgrade project also qualified the city for $16,100 in Energy Trust of Oregon incentives.
The City of West Linn estimates that converting nearly 900 cobra head streetlights to LEDs will save the city $20,000 annually in energy and maintenance costs. The project, which encompassed city and PGE-owned streetlights, qualified for $42,800 in incentives from Energy Trust. While the savings are significant, the city also weighs in the other benefits. "Sustainability and environmental stewardship are key goals for the City of West Linn," said Lance Calvert, public works director, City of West Linn. "The conversion to energy-efficient LED lighting was a perfect fit for our community in addition to the cost savings, Energy Trust incentives and the other technical benefits of LED lighting."
Even on a large-scale, multiyear project, converting to LED streetlights makes sense. The City of Portland, which owns all of its 45,000 streetlights, embarked on an $18.5 million lighting efficiency project that called for installing LED fixtures across the city. As a result, Portland expects to save $2 million annually in energy and maintenance costs. The city has already converted over 500 fixtures to LEDs, and qualified for more than $15,000 in Energy Trust incentives on a portion of them. "We are seeing about a 50 percent reduction in energy consumption and are saving about 20 percent in maintenance costs with the new fixtures," said Tod Rosinbum, signals/street lighting/ITS, City of Portland.
Learn more about the technology behind LED streetlights in Energy Trust's street lighting fact sheet.