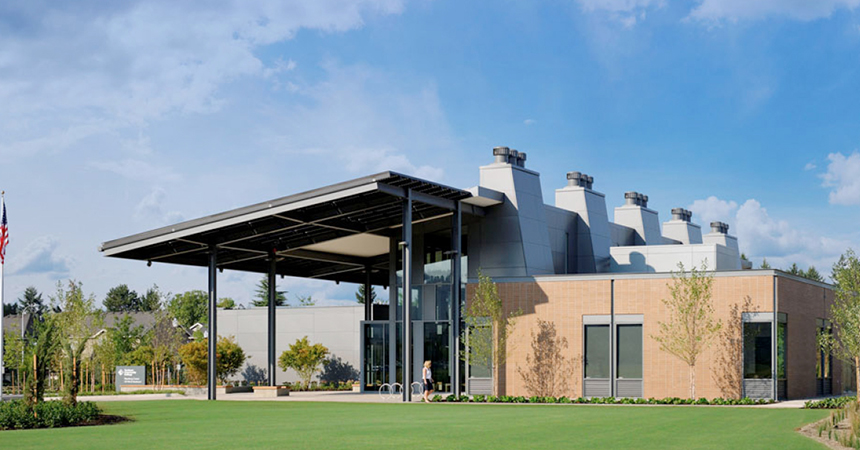 Photo courtesy of Portland Community College
When voters passed Portland Community College's bond measure in 2008, the college committed to meeting or exceeding LEED® Silver standards. As the third PCC building completed with those bond funds, Newberg Center far exceeds that goal. The 13,500-square-foot campus center is LEED Platinum certified and the recipient of multiple national design awards from the American Institute of Architects. It's one of the first higher education buildings in Oregon—and one of only a few nationwide—to be on the path to achieving net zero. The building will use so little energy that a 100-kilowatt roof-mounted solar electric system will meet all the building's energy needs over the course of a year.
The center, which has five classrooms, a conference room and office space, prioritized passive design principles. East-west building orientation maximizes opportunities to capture solar energy. Exposed concrete slab and shear walls serve as thermal mass to keep indoor temperatures even year-round.
Natural lighting eliminates the need for electric lighting during most daylight hours. Glass walls in the common area allow daylight deep into the building. Skylights in the classrooms and office space have louvers that open and close automatically according to light levels—maintaining even, diffused light.
PCC was one of the first participants in Energy Trust's Path to Net Zero initiative. The college received $236,000 in cash incentives, early design assistance and technical resources to integrate energy efficiency throughout the building's features and systems. As a customer of Portland General Electric, the college expects to save and generate 347,000 kilowatt hours of electricity each year—saving approximately $27,000 in annual energy costs.