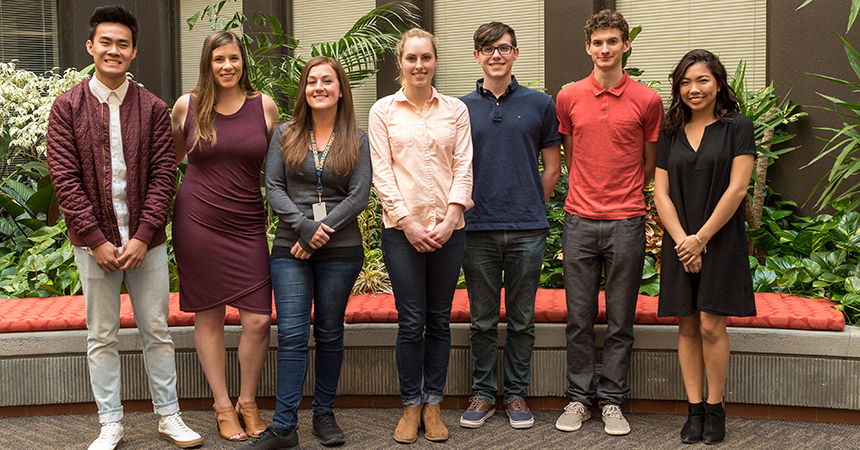 From left to right: Andy, Katie, Carrie, Rachel, Connor, Vincent and Amanda. Not pictured: Serenity, Faith
At Energy Trust, we value collaboration to find innovative solutions and achieve results. Our high school, college and graduate student interns help the organization build a sustainable energy future for utility customers—while gaining hands-on work experience and connecting with mentors.
Andy and Rachel—Renewable Energy Engineering
As part of the Renewable Energy team, Rachel and Andy help Oregonians power their homes, businesses and farms with the state's abundant natural resources. The team supports renewable, distributed energy generation for the utility customers of Portland General Electric and Pacific Power by connecting customers with cash incentives.
Andy is an electrical and computer engineering major in his second year at Oregon State University. Rachel graduated from Portland State University's Environmental Engineering program in June.
Connor—Planning and Engineering
Connor supports the Planning and Engineering team on research and pilot programs. He currently studies mechanical engineering at Portland State University and is working toward getting his master's degree with an emphasis on efficient building design and renewable energy.
Amanda and Katie—Marketing
Amanda and Katie help to make sure utility customers are aware of the clean energy opportunities available to them. Amanda is a senior at the University of Oregon majoring in public relations and journalism and minoring in multimedia. She joins Energy Trust through Portland's Emerging Leaders Internship Program (ELI). Katie is in her second and final year of the MBA program at Willamette University's Atkinson Graduate School of Management.
Vincent and Carrie—Production Efficiency Engineering
As part of the Industry and Agriculture team, Vincent and Carrie help Oregon industrial and agricultural businesses of all types and sizes control energy costs. Carrie recently graduated from Portland State University with a degree in mechanical engineering. Vincent holds a degree in mechanical engineering from Oregon State University.
Faith and Serenity—Administration
Faith and Serenity help to keep the organization operating efficiently by providing administrative support. As a senior at the University of Portland, Serenity is majoring in sociology and minoring in gender and women's studies. Faith joins Energy Trust from De La Salle North Catholic High School in Portland.