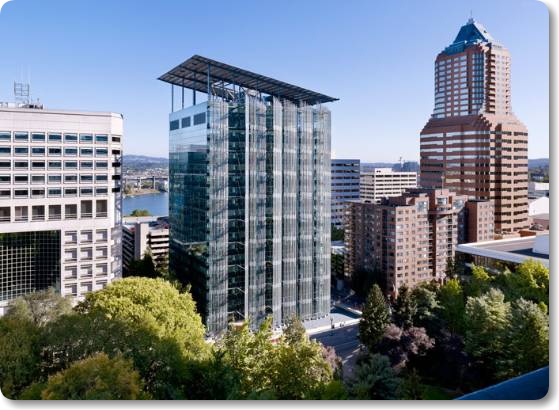 The Edith Green-Wendell Wyatt Federal Building and Bud Clark Commons were recently named as exceptional examples of sustainable design by the American Institute of Architects Committee on the Environment. Both projects were supported by cash incentives and guidance from Energy Trust of Oregon.
Managed by Home Forward, Bud Clark Commons provides vital resources, shelter and housing placement services to individuals and couples experiencing homelessness, and offers 130 studio apartments. Open since 2011, Bud Clark Commons is the first of its kind to achieve Leadership in Energy and Environmental Design, LEED®, Platinum by the U.S. Green Building Council.
In January 2014, the U.S. General Services Administration received $445,000 in Energy Trust cash incentives for extensive use of energy-saving upgrades in its $150 million development of the Edith Green-Wendell Wyatt Federal Building. Achieving LEED Platinum and one of Energy Trust's first Path to Net Zero projects, the building features radiant cooling and heating, exterior shading and a rooftop solar electric system that also includes a rainwater collection system for irrigation and gray-water use.