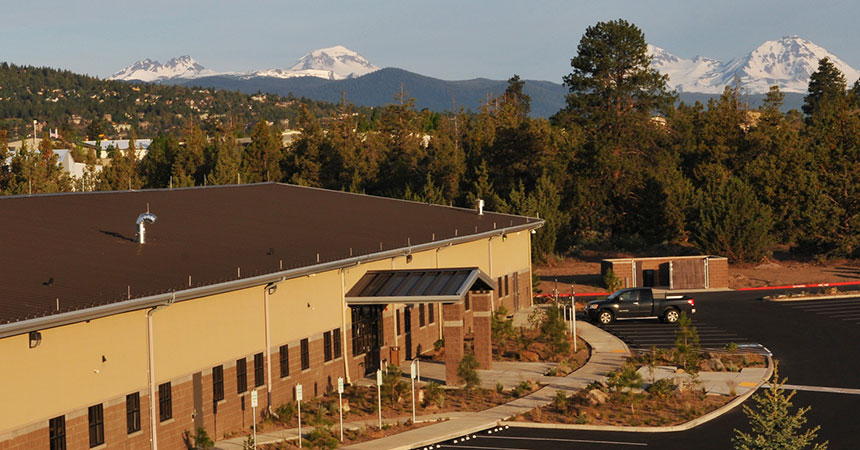 When BendBroadband needed to build a new data center to meet market demand for co-location and cloud phone, video and internet services, creating an energy-efficient facility was one of its top priorities. Efficient equipment and systems would reduce the cost of storing data and align with BendBroadband's commitment to sustainability. Energy Trust of Oregon supported the company's energy-saving goal with technical resources and cash incentives that helped the 30,000-square-foot facility pioneer green building techniques.
Energy-saving and generating strategies for the BendBroadband Vault Data Center include a passive cooling and heat-exchange system, a unique hot air containment design, energy-efficient lighting fixtures and controls plus a 152.9-kilowatt solar electric array. Combined, the energy-efficiency features are expected to help BendBroadband save 816,000 kilowatt hours of electricity annually—avoiding more than 620,000 pounds of carbon dioxide emissions. In addition, the solar electric system is expected to provide 191,000 kWh of clean, renewable energy generation annually. The facility's data storage energy costs are predicted to be 20 percent lower than a similar data center built to code.
"The Vault has raised the bar in energy efficiency and green building strategies for all data centers of the future," said Amy Tykeson, chief executive officer, BendBroadband Vault Data Center. "Energy Trust was absolutely instrumental in helping us achieve our energy-saving goals."
With Energy Trust support through more than $320,000 in cash incentives and early design assistance and consultation throughout the project, BendBroadband built one of the most energy-efficient data centers in the United States, with both Leadership in Energy and Environmental Design®, LEED, Gold certification and Tier III facility and design certification from the Uptime Institute, a distinction that recognizes excellence in data center design and Vault Data Center construction.