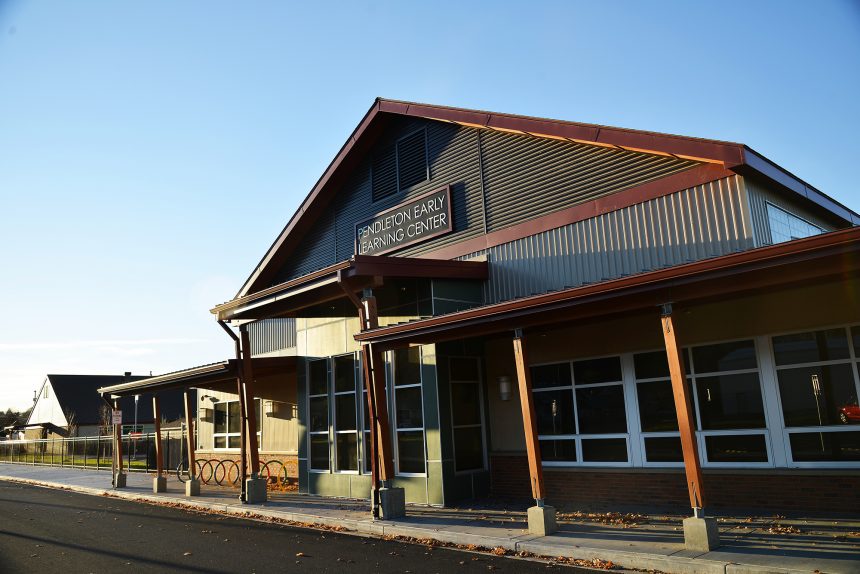 How does a rural school district with a tight budget and nearly $100 million in capital needs invest in brand new schools? In the city of Pendleton, school district leaders achieved the impossible by launching a comprehensive strategy to improve its schools, lower costs and improve the classroom learning environment.
The passage of a $59.4 million bond measure was the catalyst for change in this case. Pendleton School District successfully tapped into cash incentives and technical assistance from Energy Trust and SB 1149 funds through the Oregon Department of Energy, to reach its goal. Two identical 64,000 square foot elementary schools were built and a third school was renovated into an early learning center. All feature the latest in energy-efficient lighting and mechanical systems, along with high-efficiency hot water, low-flow plumbing systems and ENERGY STAR® appliances. Solar arrays were installed at Pendleton Early Learning Center and the new elementary schools.
The existing middle school and high school are also getting energy reboots. Mechanical systems were upgraded at Pendleton High School and Sunridge Middle School. A passive solar heating solution, installed in the 1980s at the middle school, never functioned properly. More than 30 years later, the entire system was finally upgraded to work for the first time.
Energy Trust provided Pendleton School District with $183,700 in cash incentives for its energy-saving improvements and $50,000 in cash incentives for its solar project –this results in a combined annual bill savings of $93,000.
"It was important to our community to get the best bang for our buck," said Michelle Jones, director of business services, Pendleton School District. "Energy Trust helped us come up with a plan to touch every school, provide efficiency across the district, and support student achievement through better facilities. Now we can redirect our energy cost savings into strategies that help us maintain, and even improve, our services to students."