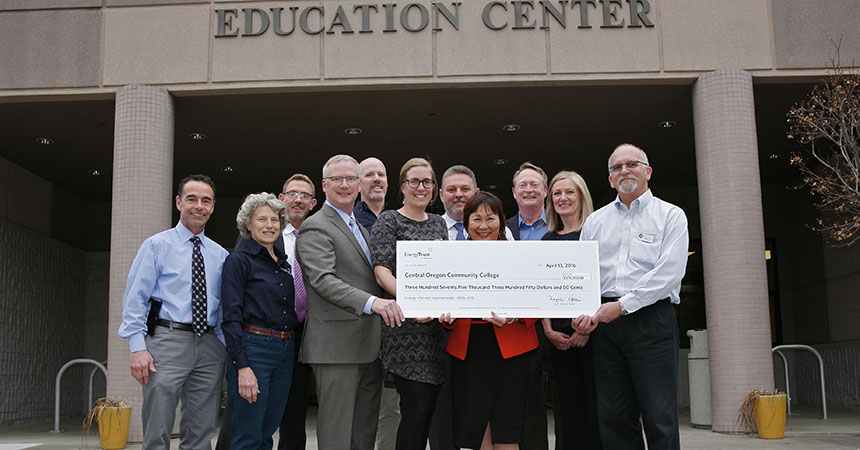 Community colleges throughout Oregon are reducing energy costs and generating clean, renewable power. By working with Energy Trust these institutions are able to set and achieve energy-efficiency goals that help to make learning environments brighter, more comfortable and safer for students and staff.
Check out these articles, videos and links to news stories about what Oregon's energy-conscious community colleges are accomplishing.
---
Central Oregon Community College gets an A+ in energy savings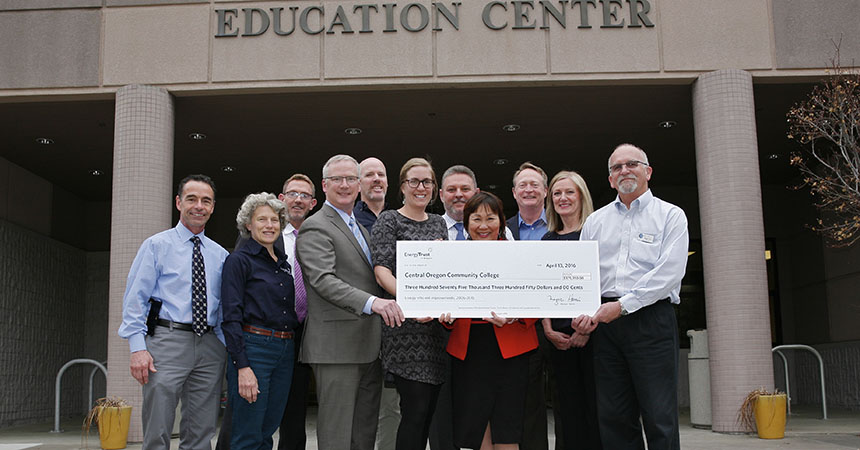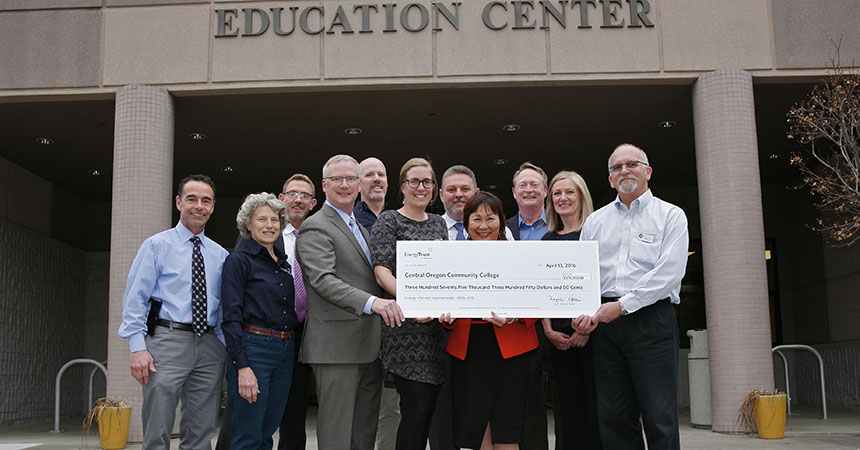 Central Oregon Community College, COCC, has a longstanding interest in promoting sustainability across its four campuses. But completing everyday repairs and managing renovations in 32 buildings, encompassing over 783,400 square feet, can be overwhelming for the five-person facilities maintenance staff. Energy Trust helped lighten the load by assisting with the energy-efficiency components of the renovations. "Everything just goes further with Energy Trust," said Ryan Stock, COCC Facilities Maintenance Manager. "They help us get more done, then take the next step by offering incentives."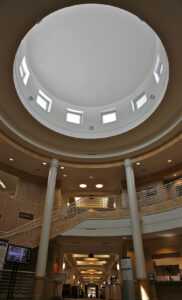 COCC began working with Energy Trust in 2006 and since then has completed 32 energy-efficiency projects, with more underway, including upgrades to existing equipment and new construction. The college began by installing custom lighting and controls, and replacing the boiler in Modoc Hall. Throughout the next decade, the college also completed a custom lighting project in its parking areas and added custom building controls to Ponderosa Hall and Pence Hall to enhance student comfort.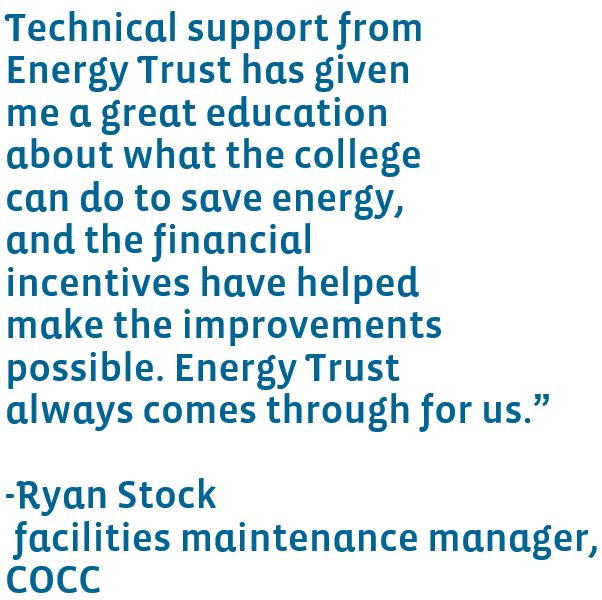 The college focused on improving classroom learning environments by converting T12 lamps to T8 in Pioneer Hall and later completed similar upgrades in the bookstore. Switching the low bay lighting fixtures to LED fixtures for the technology shops improved safety for welding and metal fabrication, "These shops have been greatly improved with the high-performance lighting," reported Stock. Outside Pioneer Hall, upgrading to LEDs gave security staff better visibility at night and made students feel safer.
Safety was also a priority on the Redmond campus, where lights in parking lots and driveways were upgraded. Even the new parking lot at the COCC Chandler Lab facility building off campus was equipped with LEDs. "When we're creating a schedule for lighting upgrades, safety is typically the most important factor," reported Stock. "But another benefit of LEDs is that they don't juneed to be replaced as often. So we prioritize lights that are hard to get to, like the lights in the two-story library rotunda." In addition, facility managers have installed dimmers in the main campus yoga studio to create the calming atmosphere instructors were looking for.

COCC took on HVAC controls modernization in Ponderosa Hall, Pence Hall, Modoc Hall, Ochoco Hall, Barber Library and Mazama Gym—all located on the main campus in Bend. The college installed direct digital controls with demand control ventilation needed to enable new computer equipment to operate properly. Additionally, installing carbon dioxide sensors*  improved ventilation to classrooms. "The interface with the controls is much better now," said Stock. "Scheduling is smoother, and with better access we can more easily plan building heating and cooling cycles."
In addition to completing lighting and HVAC upgrades, COCC worked with Energy Trust to improve energy efficiency in its student housing facilities. Some of the upgrades included new showerheads, shower wands and a clothes washer to decrease energy costs, reduce water consumption and create a more sustainable environment.
Thanks to these projects, COCC has saved nearly 1.9 million kilowatt hours and 130,000 therms annually. That translates into major savings—more than $256,000  in electric and gas savings in 2015 alone. These savings benefit both students and taxpayers, and will accrue annually. In April 2016, Energy Trust recognized COCC with a big check representing the $375,350 in Energy Trust incentives the college has received since 2006. "Technical support from Energy Trust has given me a great education about what the college can do to save energy," said Stock. "And the financial incentives have helped make the improvements possible. Energy Trust always comes through for us."
---
Clatsop Community College's Patriot Hall rebuilds on its Path to Net Zero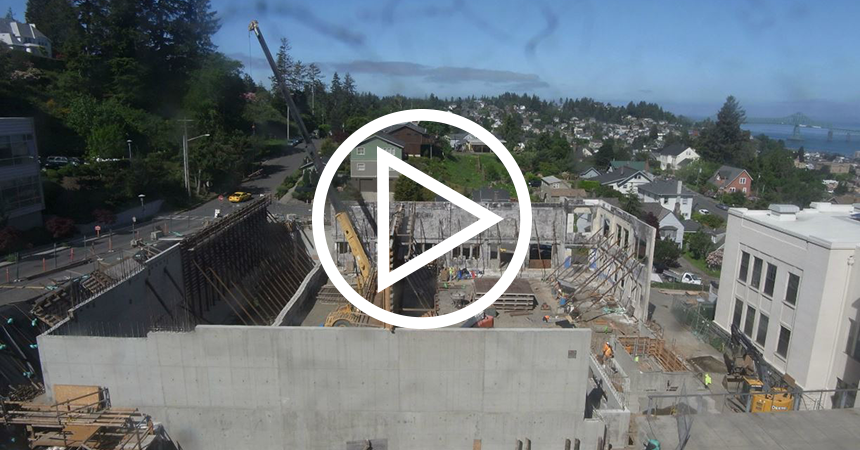 The 93-year-old centerpiece of Clatsop Community College's campus in Astoria is getting a second life. Patriot Hall was demolished in 2015 and a new Patriot Hall is rising in its place, filled with cutting edge energy-efficient design strategies and high-performance building standards. SRG Partnership is the architect for this project. The building will be completed and opened in time for classes in the fall, and you can take a live look at the construction site through a time-lapse video.
---
Umpqua Community College learns the solution to energy-efficient building maintenance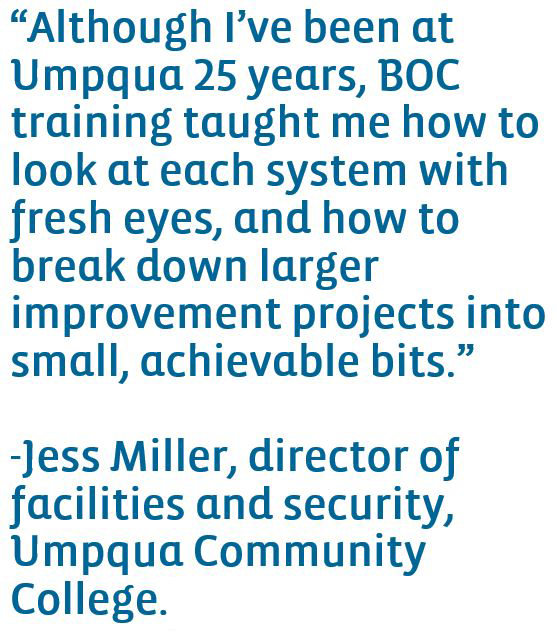 When it comes to maintaining comfort, security and energy savings, Umpqua Community College gained an edge by sending facilities employees to Building Operator Certification, BOC®. The nationally recognized training program taught staff the latest technologies and strategies for maintaining equipment and improving efficiency. Takeaways included learning how to locate HVAC sensors optimally and making better use of Umpqua's direct digital control system to control lighting.
Hear Umpqua employees explain the benefits of BOC in their own words by watching this short video.