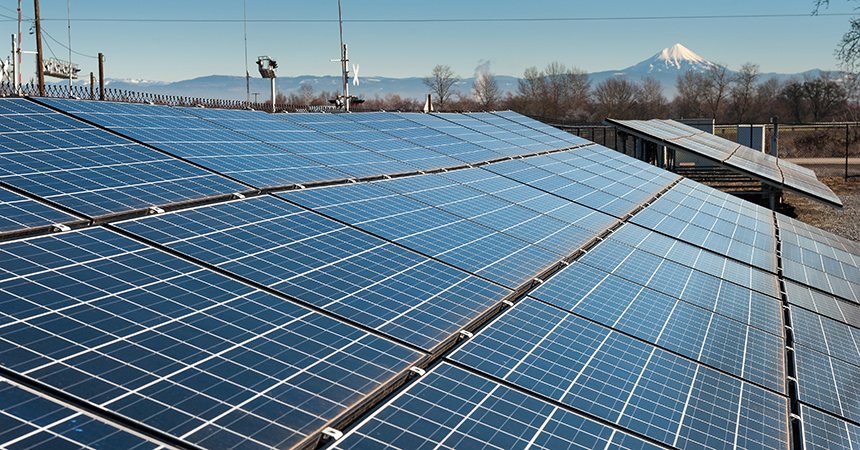 The Oregon Community Solar Program recently celebrated its first year of bringing access to local, clean energy to people and communities across Oregon. Now, the program is looking ahead to the next phase while reflecting on the progress of the first year.
Launched in January 2020, the program has fully allocated the initial capacity available to most projects, with capacity still available for small and community-led projects. The first projects awarded capacity came online earlier this year, allowing subscribers to receive the benefits of community solar while saving money on their utility bills. Interest in new projects continues to grow as approved projects that exceed available capacity are being accepted to a waitlist.
The program provides a unique opportunity to make solar energy accessible to those who may not be able to afford, or have the infrastructure to support, traditional solar options. Community solar projects are available to customers of Portland General Electric, Pacific Power and Idaho Power and are located throughout Oregon. Community solar projects can be located either on buildings within the community they are intended to serve, or anywhere else in the same utility service area.
The Oregon Community Solar Program is preparing to release additional capacity and is seeking public comment through June 3. Individuals interested in participating are invited to send their comments to kacia.brockman@puc.oregon.gov.
On June 4, the Oregon Community Solar Program Administrator and OPUC will host a public workshop to receive stakeholder input on the next phase of the program. Workshop information, including instructions for joining, are available here.
Residents and businesses interested in subscribing to a portion of a solar system can enroll through the Oregon Community Solar Program website. In addition, Energy Trust offers Community Solar Development Assistance to support early development activities of small and public or nonprofit-led projects participating in the program.
The Oregon Community Solar Program is managed by the Oregon Public Utility Commission and administered by Energy Solutions, Energy Trust and Community Energy Project.