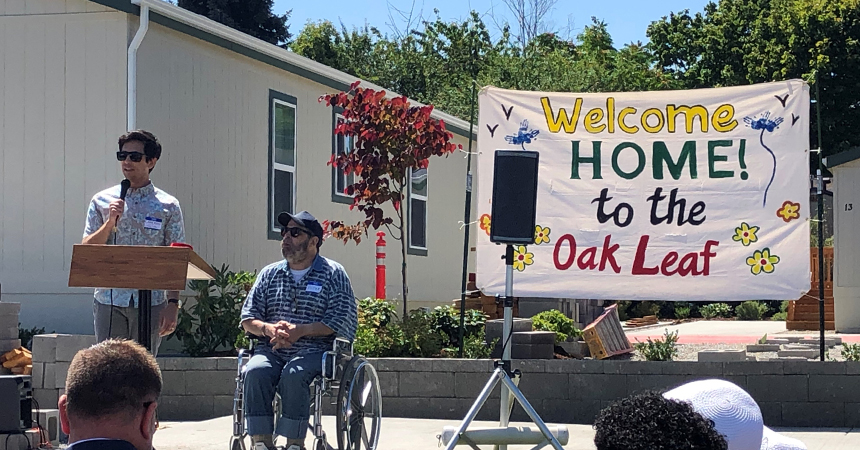 On July 20, residents of Oak Leaf Manufactured Home Park in Portland's Cully neighborhood got a warm welcome from neighbors and community leaders as they celebrated moving into their brand new manufactured homes. Hosted by new park owner St. Vincent de Paul and sponsored by the Port of Portland, Living Cully, Verde, St. Charles Borromeo Parish, and Central Northeast Neighbors, the welcome home party marked the return of residents to 21 new manufactured homes after residing in temporary off-site housing during renovations.
More than a housewarming party, the event was the culmination of years of work by the Oak Leaf Park residents who brought together their Cully neighbors, churches, Legal Aid attorneys and community-based organizations to preserve their homes when faced with a potential park closure in 2016. The community compelled the park owner to cancel a planned sale to the developer, and St. Vincent de Paul partnered with the Portland Housing Bureau, Oregon Housing and Community Services, Multnomah County, Network for Oregon Affordable Housing and Energy Trust to purchase and rebuild the property. The Oak Leaf Park is the first mobile home park in Multnomah County owned by a nonprofit dedicated to providing affordable housing for people with low or fixed incomes.
Oak Leaf Park is the first park to participate in Energy Trust's Manufactured Home Replacement Pilot program to retire aging manufactured homes with new, energy-efficient models. Energy Trust will pay St. Vincent de Paul Society of Lane County $220,000 in incentives to support replacement of 21 manufactured homes at Oak Leaf Park.
This Manufactured Home Replacement Pilot program was created by Energy Trust because residents of older manufactured homes spend about 70% more on energy per square foot than residents of site-built homes, according to the U.S. Energy Information Administration. These higher energy costs disproportionately affect people with lower incomes. There are more than 170,000 manufactured homes in Oregon, and more than 110,000 of these were built before 1995, when federal standards for energy efficiency were minimal or non-existent. Older homes have less insulation, experience high air leakage and inefficient windows and heating systems.
Energy Trust will use the learnings from Oak Leaf Park and other initial pilot participants to assess how to expand the benefits of the Manufactured Home Replacement Pilot program to other residents across Oregon. This program is one of Energy Trust's efforts to increase participation of underserved communities (including communities of color, rural communities and people with low incomes) in our energy efficiency and renewable energy programs. This is a key goal of the organization, and an emphasis of its draft 2020-2024 Strategic Plan, which is currently open for public comment until August 2.
In addition to 21 new manufactured homes, the renovated park includes a community center with offices, a large room for meetings and events, a food pantry and a laundry facility. Supported by Energy Trust incentives, the community center features solar panels that generate clean energy and help reduce the center's energy costs. Additional funding for the solar installation was provided by Pacific Power customers through its Blue SkySM program.
Learn more about Energy Trust's Manufactured Home Replacement Pilot program and see the how manufactured homes were delivered to Oak Leaf Park.