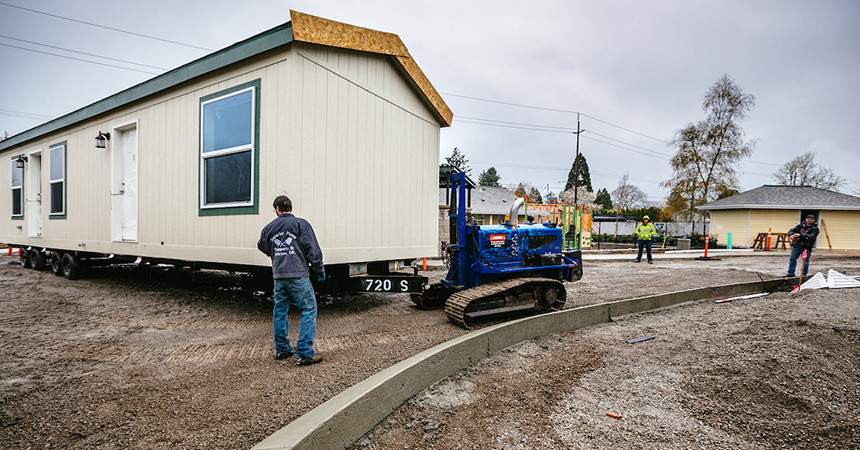 If you happened to drive down NE Killingsworth Avenue in Portland in early April, you may have experienced a brief but unusual traffic jam. That's because semitrucks loaded with five new, energy-efficient manufactured homes were driven down the road en route to their final destination at Oak Leaf Manufactured Home Park.
These homes are among 16 new units being installed at Oak Leaf as part of Energy Trust of Oregon's Manufactured Home Replacement Pilot Program. The pilot program will retire aging energy inefficient manufactured homes such as ones at Oak Leaf and replace them with energy-efficient new manufactured models.
There are 170,000 manufactured homes in Oregon, and more than 110,000 of these homes were built before 1995, when federal standards for energy efficiency were minimal or non-existent. Older manufactured homes have less insulation, experience high air leakage and have inefficient windows and heating systems. As a result, residents of these homes spend about 70 percent more on energy per square foot than residents of site-built homes according to the U.S. Energy Information Administration. These higher energy costs disproportionately affect people with lower incomes.
The goal of Energy Trust's pilot program is to create a model to replace aging manufactured homes, integrating energy efficiency, poverty alleviation and affordable housing investments that can be replicated in other Oregon communities, bringing benefits to more residents.
Today, the pilot benefits from a collaborative partnership between Energy Trust and St. Vincent de Paul Society of Lane County (which owns Oak Leaf Manufactured Home Park), Oregon Housing and Community Services, CASA of Oregon, NeighborWorks Umpqua and regional Community Action Agencies. With help from these partners, Energy Trust identified qualified homes and parks where homes can be improved. The new manufactured homes in this pilot will meet the standards of the Northwest Energy Efficient Manufactured Homes Program, which certifies energy efficient manufactured homes.
Ever wonder how a manufactured home makes its way from the factory to its final location? Check out some photos we captured on delivery day to see part of the process.
Step 1: This blue towing vehicle is removed from the truck. This towing vehicle was small but mighty—it can pull the weight of an entire home on its own.
Step 2: The vehicle connects to the towing hitch on the axels that connect the home to the delivery truck.
Step 3: Did you notice the blue vehicle didn't have a driver? That's because it's maneuvered via remote control by this highly skilled operator. Notice the controller in his hands.
Step 4: The new home is driven through Oak Leaf park, where construction is underway to make room for the 14 new homes.
Impressively, thanks to the nimble towing vehicle, the homes could get around tight corners in the park.
Almost there! Notice the similar new homes in the background, which were delivered earlier in the month.
Thanks to St. Vincent de Paul Society of Lane County for hosting us at the home delivery. For more information about manufactured homes and how Energy Trust can help you, visit: https://www.energytrust.org/residential/new-manufactured-homes/