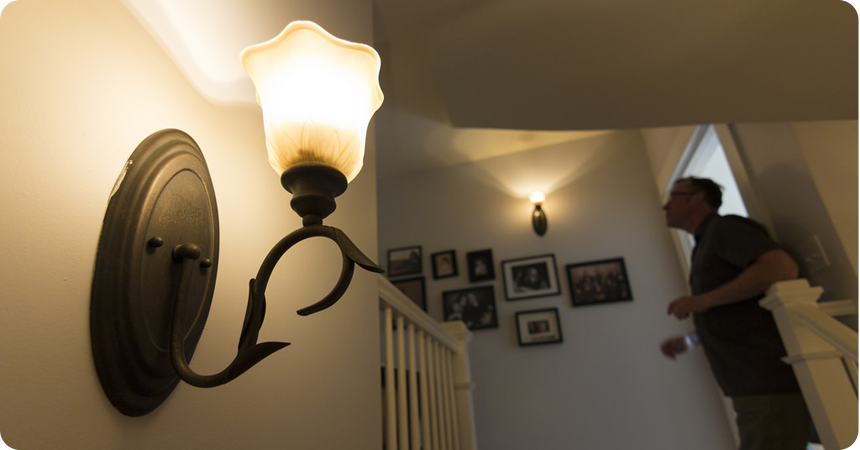 Here's how to navigate the wide variety of energy-efficient lighting options available on store shelves to find the perfect match for your home.
First, choose your bulb. LED, or light-emitting diode, bulbs use 85 percent less energy than incandescent bulbs and last up to 25 years. This amounts to an estimated lifetime savings of $80 per bulb. Compact fluorescent light bulbs, or CFLs, use 75 percent less energy than incandescent bulbs and last up to 10 years for an estimated lifetime savings of $30 per bulb. LEDs and CFLs are available for a variety of fixtures and come in warm and cool color choices.
Find your perfect color tone. Picking the right color temperature is a matter of kelvin. The lower the kelvin, the warmer the light. For warm light similar to traditional incandescent bulbs; choose bulbs marked "soft white" or "warm light." Soft white bulbs are often used in bedrooms, living rooms and dining rooms. For a brighter light, choose bulbs marked "daylight" or "bright white." Bright light is often used in kitchens or work spaces like offices and garages.
Trade your watts for lumens. While watts measure the amount of energy used, lumens measure how much light a bulb actually provides. You're no longer shopping by wattage; you're shopping by light output. Replacing an old 60-watt incandescent bulb? A 60-watt incandescent bulb produces about 800 lumens, so to find a bulb with similar light output, look for a bulb with 800 lumens.
Everything you need to know is on the lighting facts label. Much like the nutrition facts labels on packaged foods and beverages, these labels provide a quick summary of what's inside the box. The label, designed to help consumers make educated purchasing decisions about lighting, lists light output by lumens, lamp life, color appearance and lamp wattage.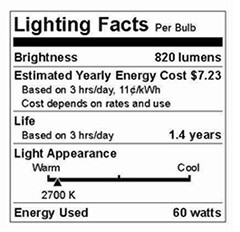 Finally, look for a bulb that's ENERGY STAR® qualified. These bulbs are tested to ensure quality and performance, both in terms of efficiency and bulb life.
Read more tips on choosing a light bulb in Energy Trust's buyer's guide to energy-efficient lighting and the ENERGY STAR lighting guide in English and Spanish.