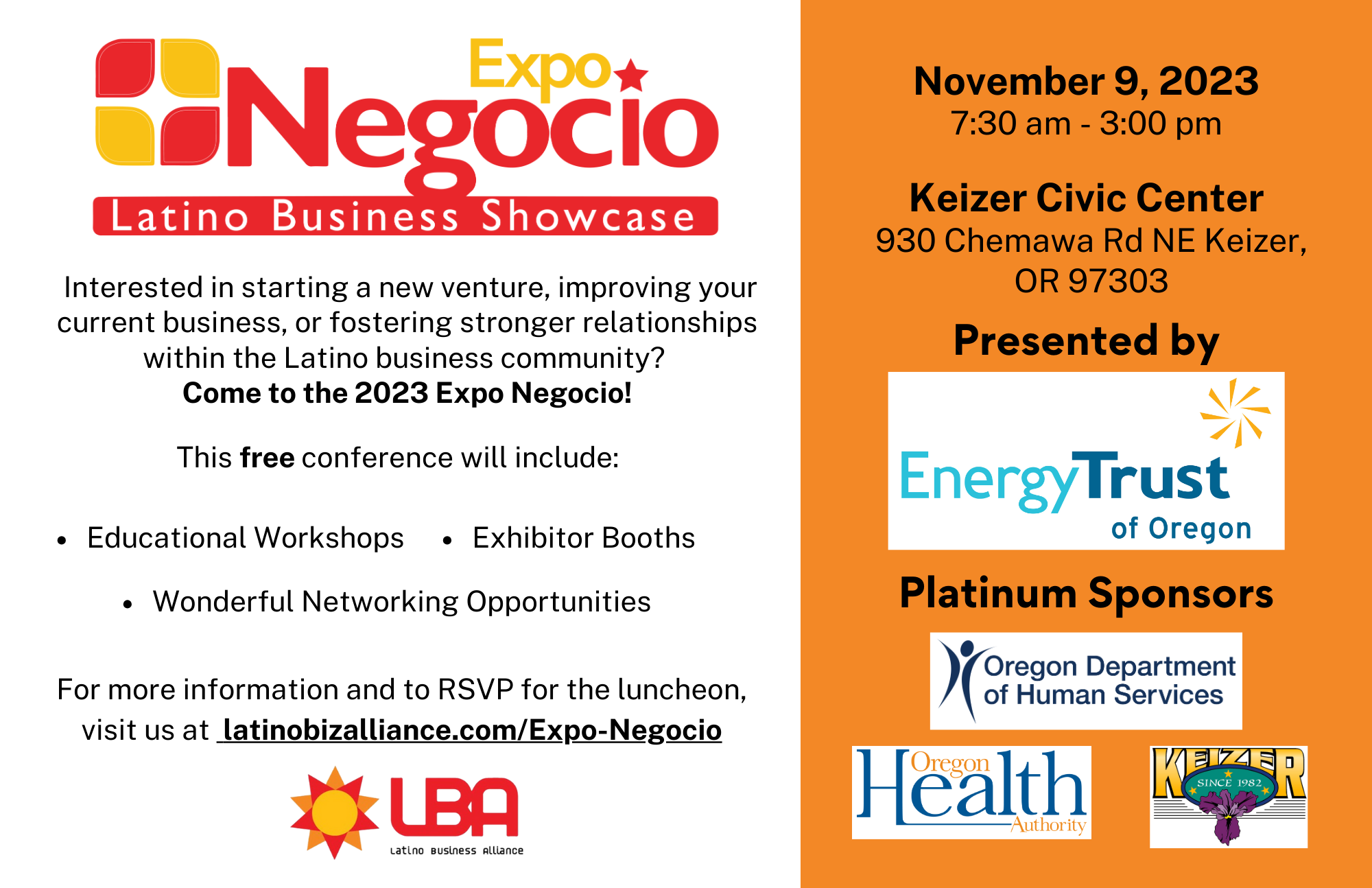 The 11th annual Latino Business Alliance Expo Negocio is returning on Thursday, November 9, from 7:30 AM to 3 PM at the Keizer Civic Center in Keizer, Oregon. Sponsored for a second year by Energy Trust of Oregon, this premier Latino business expo is an opportunity for Latino businesses to network and celebrate with the community. Energy Trust is excited to share the importance of energy efficiency and how it can help their businesses run better.
Latino-owned businesses are the fastest growing sector of the U.S. economy, creating jobs and economic growth across the country. This free bilingual event aims to provide educational opportunities for Latino business owners in the Willamette Valley while providing a safe space to develop diverse intercultural relationships.
"We are honored for the opportunity to support the Latino Business Alliance's 11th Annual Expo Negocio." said Energy Trust Senior Outreach Manager Emma Clark. "Our partnership seeks to support the small business community by providing greater access to energy savings and other opportunities for local contractors."
This conference will include business workshops on topics such as learning from your financial reports, how to differentiate between different business structures, and how to receive cash incentives for energy-efficiency upgrades in businesses. There will also be a large array of exhibitor booths from local and state-wide organizations. There will also be opportunities for professional networking during the morning Cafe y Pan Dulce and the luncheon at noon.
Expo Negocio Event Chair Fatima Falcon hopes this year's event will remind people that Latino Business Alliance is still here providing support for small business owners in the Latino community. "It often feels overwhelming to own a business, and it is particularly isolating when you're an immigrant. Through this event, I hope the entire community finds at least one resource that can help them see that we are not alone, and that we can and will thrive in our businesses."
This event is for anyone interested in starting a new venture, improving their current business, or fostering stronger relationships within the Latino business community. Business associations, owners, working professionals, chambers of commerce, non-profits, policymakers, local elected officials, and state and local government agencies are all welcome to attend.
This event has passed.