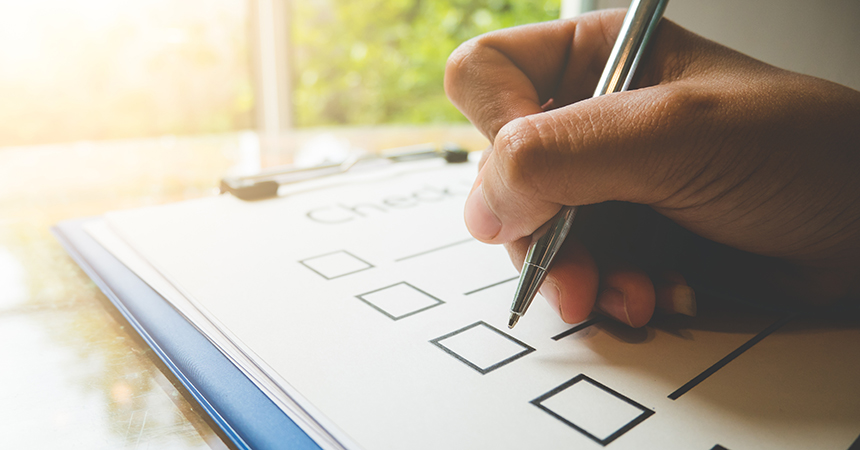 Energy Trust of Oregon is dedicated to helping people in Oregon and Southwest Washington reduce their energy use and create greener, more sustainable communities. Through our services and incentives, we help businesses reduce energy expenses and support organizations of all sizes in achieving their clean energy goals.
Energy Trust works with Portland General Electric, Pacific Power, NW Natural, Cascade Natural Gas and Avista to offer customers of these utilities cash incentives for making energy-efficiency upgrades at their businesses. Cash incentives, or rebates, are provided to business or property owners for installing energy-saving equipment or completing other energy-reducing projects. Cash incentives help reduce the upfront cost of upgrading to more energy-efficient equipment. Once equipment is installed, cash incentives are sent as a direct deposit or a check in the mail.
Ready to get cash incentives for saving energy? To help you get started, we've created a guide to apply for cash incentives for equipment upgrades. By the end of this article, you will have all the tools you need to start your energy-saving project and earn cash incentives.
The step-by-step guide
1. Confirm your eligibility
To qualify for cash incentives, you must be making improvements to an existing structure in Oregon or Southwest Washington. You must also be a utility customer of Portland General Electric, Pacific Power, NW Natural, Cascade Natural Gas or Avista. Check your bill or contact Energy Trust to confirm.
2. Install qualifying energy-efficiency equipment
There are a wide range of qualifying equipment options to help your business run better. If you're not sure where you could be saving energy, we offer tools to help you identify areas for improvement. With the Quick Start Guide, you can answer a few questions to get tailored recommendations for your business. For a closer look at all qualifying equipment and incentives, check out the Oregon Cash Incentives or Washington Cash Incentives pages.
If you already have a project in mind, find a qualified contractor in your area through Energy Trust's network of trade ally contactors. You can also receive incentives by installing equipment yourself or through your preferred contractor.
3. Complete standard application information and provide required documentation
To apply for incentives, Oregon participants must fill out Form 120P and Washington participants must fill out Form 120P-WA-EB within 90 days of equipment installation. Forms are available online as PDF or Excel files.
The form may look long, but it's quick and simple to fill out! Just identify the energy efficiency upgrades your business made including the quantity and cost of equipment installed. The form will automatically calculate the total incentive amount you are eligible to receive.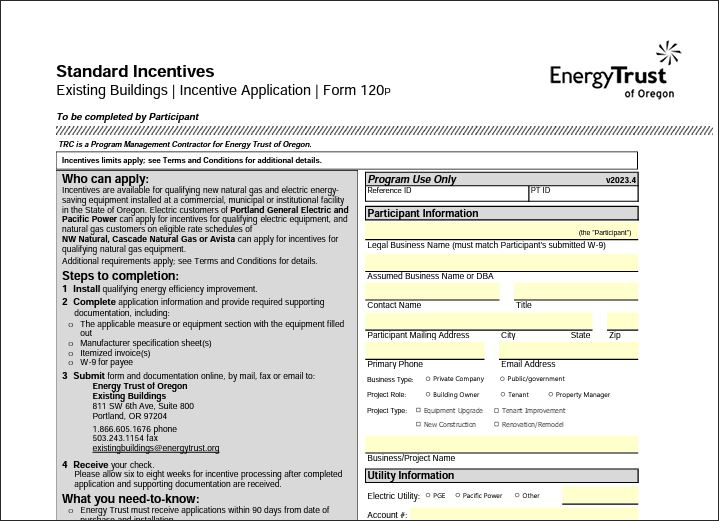 Screenshot of Oregon Existing Buildings application form, form 120P
The following documents must also be submitted with your application:
Itemized invoice(s) from purchase of equipment including any installation or labor charges (see application form for details)
W-9 for incentive recipient: a W-9 form is required for all businesses or organizations applying for incentives. The form can be found on the Energy Trust website here.
Manufacturer or product specification sheet(s): a manufacturer specification sheet is a document that outlines important information about the equipment or product installed including the make, model, size and efficiency rating. This can be provided by the contractor or distributor, or it can be found online.
4. Submit form and documentation
You can choose to submit your documents by mail, fax or email. The addresses and fax number can be found on the first page of the form. To ensure that your application is processed quickly, it's best to double check that all the necessary information is included. Common omissions and mistakes include missing W-9's, unsigned applications and submitting unpaid invoices. Avoiding these will ensure that your application is reviewed quickly, and that no additional communication is needed to process your incentive.
5. Receive your incentive check
Typically, incentive checks are sent out within 6-8 weeks of when the application is received.
Using a trade ally contractor
Energy Trust works with trade ally contractors and other allied professionals that are part of our on-the-ground network that connects customers to incentives and services. Trade allies are independent qualified contractors that work with Energy Trust to help customers complete energy-efficiency projects and stay up to date on current incentive offers and processes. If you have questions or need assistance with your application, a trade ally can be a great resource.
Submit your application today
With this guide, we hope that you feel ready to take on your next energy-efficiency project and start earning cash incentives.
If you have questions, our team is here and ready to help. Contact us by calling 1.866.605.1676 or email existingbuildings@energytrust.org.