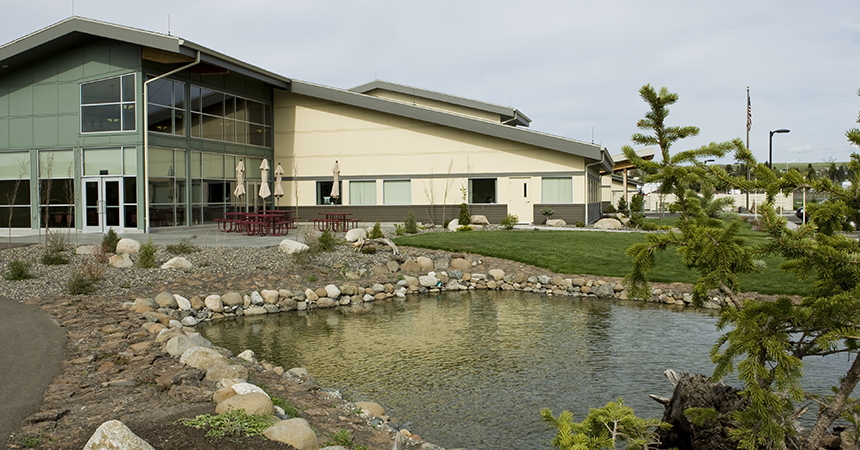 Many people and organizations are looking for ways to reduce their impact on the planet and combat climate change. It can be difficult to know what specific things you can do and to make time to take action. The People's Ecochallenge, which takes place from October 6 to 27 in 2021, provides a structure to help people and organizations save energy. The challenge offers a set of actions you can commit to and the accountability of having participants pledge to take these actions. Actions can be low effort, like turning off lights and appliances when they are not in use or can require more effort like upgrading the HVAC system in your office.
In the past few years, participants in Energy Trust of Oregon's Strategic Energy Management (SEM) Program have used the challenge as an opportunity to engage their employees in contributing to their companies' energy reduction goals. During the 2020 Ecochallenge, SEM participating companies completed over 800 energy saving actions!
Energy Trust of Oregon is encouraging more businesses to use the 2021 People's EcoChallenge as a way to engage employees in reducing the company's energy use.
Interested in participating? Here are some key things to know:
How can my company participate?
The Ecochallege is free, and anyone can participate. You can participate alone or as part of a group. Joining as a group can help boost morale and bring team members together. If you are planning to participate as a group, the first step is to gather the group so you can register as a team.
Go to the People's Ecochallenge website and click the "join" button at the top of the page to register. Once you have registered, you and your team members can review the different actions and commit to the ones that you are interested in taking during the challenge. The actions are divided into categories to make it easy to narrow down the list to those that are important to you.
How are the actions completed during the challenge tracked?
Each individual participant or member of a team will have a login to the People's Ecochallenge website. Log in to report the actions that you complete. You will earn points for the actions, and you can compare your score to the scores of other participating individuals and teams. Some teams choose to challenge other teams to see which can accumulate the most points during the Ecochallenge.
In 2021, Energy Trust's SEM participants set a goal to take even more actions to decrease energy use and reduce their companies' carbon footprint during the People's EcoChallenge. Is your company up for the challenge?
Interested in learning more about Energy Trust's SEM Program? Visit www.energytrust.org/commercial/strategic-energy-management.