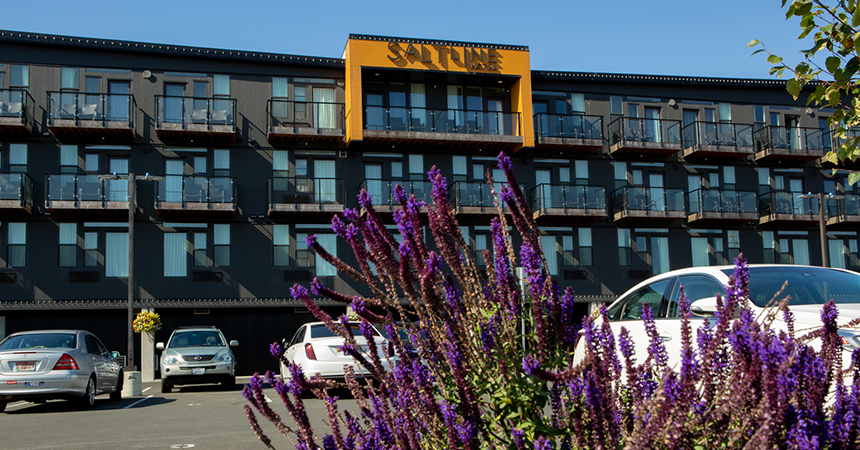 In the heart of downtown Seaside, SaltLine Hotel offers a local showcase of how a business can work with Energy Trust of Oregon to meet its energy efficiency goals while receiving incentives and technical assistance.
SaltLine sits on First Avenue, where it replaced one of Seaside's longest-running hospitality properties, the City Center Motel. The motel was purchased by Seaside Lodging in 2013 and renovated. Eventually, the motel became "too much to keep going," said Clarann Register, SaltLine's operations manager. The plumbing and electricity had lasted beyond their lifespans, she said.
In 2019, the City Center's cabin-type buildings were torn down so Seaside Lodging could construct SaltLine, a four-story, 65-room boutique hotel with amenities such as onsite massage, a fitness center, a saltwater pool, a spa and a guest laundry.
The company knew it wanted to work with Energy Trust from the start of the SaltLine project, Register said. "That was one of the things that we made a priority. Let's work with Energy Trust from the ground up." Since SaltLine was new construction, it qualified for a $2,500 incentive for early design assistance as well as a $2,000 incentive for LED lighting estimated to save 13,300 kWh of energy annually.
The lighting project is a great example of how energy efficiency works not only for the environment but also for the business, Register said. "A lot of times, both can benefit," she said. Choosing LED lighting was both eco-friendly and maintenance-friendly, with the staff not having to change bulbs as often.
A year later, the hotel upgraded its HVAC system, installing an energy management system, and received $6,000 in cash incentives from Energy Trust to help cover project costs.
Hotels across the U.S. use HVAC controls to reduce the hours their systems spend heating or cooling rooms, especially empty rooms. The HVAC controls include custom programmable thermostats with motion sensors in each guest room.
Guests can still set the thermostat in each room to their preferred temperature, Register said. But when the motion sensor detects that no one is in a room, the system lets the thermostat drift up or down so the HVAC doesn't have to run, saving energy. SaltLine staff can also remotely monitor whether rooms are occupied and adjust their temperatures, Register said.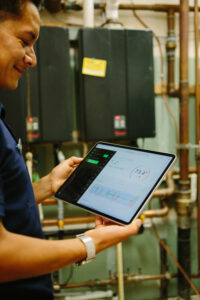 Energy Trust estimates that the new HVAC controls will save SaltLine about 56,000 kWh of energy annually. Register said that following the installation, SaltLine's electricity usage dropped by 40 kilowatt-hours a day. "Which might seem insignificant, but you do that year after year, it pays for itself," she said.
According to Register, the lighting and HVAC controls projects are just two examples of how SaltLine has strived to be environmentally responsible since day one. Its goal is "to embrace sustainable practices and offer our guests informed choices to conserve energy, reduce waste and minimize environmental impact." SaltLine offers guests free access to four electric vehicle charging stations and a fleet of bicycles. Each guest room has recycling bins and bulk shampoo dispensers. Working toward that sustainability goal with the help of Energy Trust's incentives has been easy, Register said. "They just become your partner. It's really pretty painless."
Learn more about how your hotel can maximizes energy savings with help from Energy Trust.