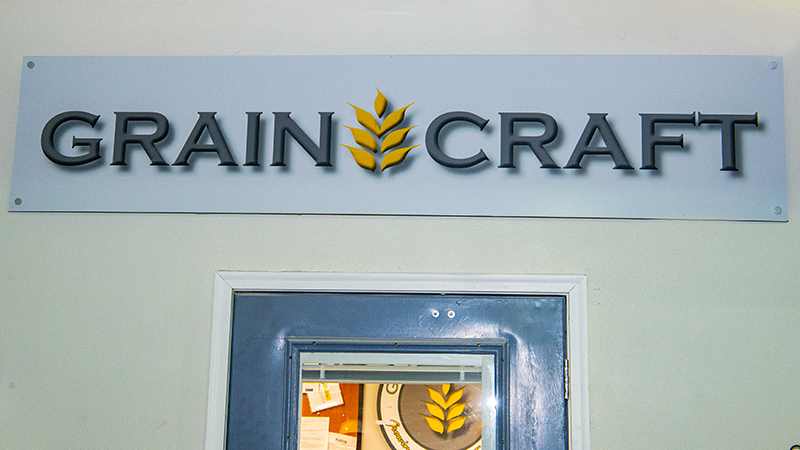 Grain Craft, a flour mill located in North Portland, produces 720,000 pounds of flour every day, which is then packaged and delivered to commercial bakeries throughout the Pacific Northwest. In its efforts to improve energy efficiency and sustainable operations, the company has engaged in Energy Trust's Strategic Energy Management offering. During a treasure hunt around the plant to find opportunities for energy savings, the SEM account manager noticed steam pipes that would benefit from insulation, specifically through the free direct install pipe insulation offer.
Chris Rodriguez, Grain Craft plant manager, agreed and selected Boyter Brothers Inc., an Energy Trust approved pipe insulation trade ally, for the job. "I appreciated how easy it was," said Rodriguez. "Boyter Brothers was so independent and professional. All I had to do was point to the pipes. They knew what to do and ran with it."
For Boyter Brothers, a mechanical insulation and fire stop specialty contractor founded eight years ago by Mark Boyter, becoming a trade ally for the direct install pipe insulation offer has been a positive move for their business. "We looked into promoting pipe insulation upgrades on our own, but found it wasn't a cost-effective sales effort for us," explained Matt Grider, senior project manager for Boyter Brothers. "As an Energy Trust trade ally, and a business registered through Oregon's Certification Office for Business Inclusion and Diversity (COBID) program, we receive referrals to jobs that have been identified as a good match for the service. Plus, for the customer, it's as easy as saying yes. There's no cost to them and we do all of the paperwork."
Pipe insulation offers many benefits for industrial customers, from energy and cost savings to safety and cosmetic improvements. Without insulation, hot water in the piping system will lose heat to the cooler air around the pipes. Insulation minimizes the heat loss and helps prevent energy waste. With the generous incentive through Energy Trust, the upgrade is free and the savings take effect immediately.
At Grain Craft, the project involved insulating 400 lineal feet of steam pipes leading from the bottom-floor mechanical room up to the eighth-floor milling area. "Our goal was to enclose the exposed heated pipes to keep people safe and create a more professional look," said Rodriguez. The project is estimated to save more than 8,000 therms a year, and there was no upfront investment for Grain Craft to delay the estimated annual cost savings of $7,200. Boyter Brothers received incentives from Energy Trust to cover the full material and installation cost of $16,210.
"Every business has a unique piping system and our approach to their installation needs to reflect that," said Grider. "With the direct install pipe insulation offer, we have the flexibility to assess the situation and provide a professional installation. That's a pretty satisfying day on the job."
To start saving today, visit www.energytrust.org/industrialpipeinsulation or call 503.928.3154.