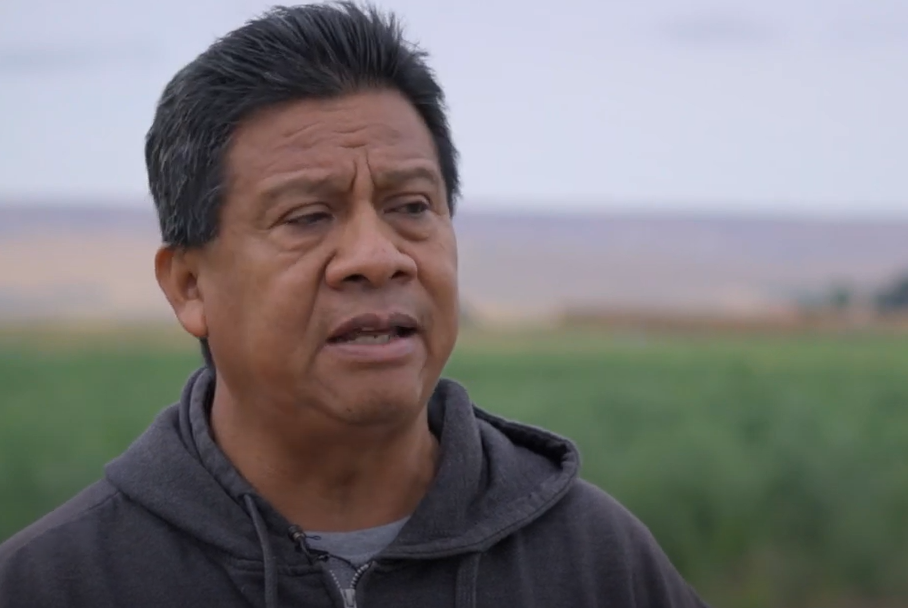 Felipe Jimenez owns and operates Jimenez Farms, a 50-acre farm outside Milton-Freewater, Oregon. Jimenez used all his savings to purchase the land more than 15 years ago. And with just $60 remaining in his pocket, he slowly started buying the seeds and tools needed to cultivate and grow the farm into what it is today.
Today his farm is thriving. It's known for an amazing asparagus crop, as well as regional favorite, Walla Walla onions.
"A lot of people seek out my onions because of their quality and size," says Jimenez. "I'm very proud of how far my farm has come. It's a great motivator to keep going."
Part of Jimenez's success is his commitment to the land and its resources and the investments he's made into equipment and processes that allow him to use those resources more efficiently. Over the last four years, Jimenez has worked with Energy Trust of Oregon to upgrade the farm's irrigation systems. Those upgrades are showing some big benefits including less money spent on energy, and water and labor savings.
"It's hard work without the [drip] irrigation system," said Jimenez. "You have to move pipes around to make sure your crops get enough water. The drip line installation is much better since you don't have to move anything." He then adds, "When you're a small farmer, every little bit of assistance helps. I know some might not consider these upgrades because it is a big investment upfront, but it's worth it in the end."
Since 2019, the upgrades Jimenez has made to his farm have produced an estimated savings of 33% energy savings, 13% water savings, roughly $3,700 saved labor costs, all while increasing his crop yield by 10%.
Those upgrades include:
Drip line installation which minimizes the amount of water that doesn't make it to the crop roots.
Variable Frequency Drive (VFD) installation which automatically adjusts the irrigation pump , depending on demand, saving
Irrigation hardware replacements for leaky or inefficient equipment such as gaskets, sprinkler heads, and nozzles.
Updating irrigation systems can pay dividends not just to farmers and ranchers but to entire regions as well, as communities look to conserve water during prolonged drought.
Agriculture can require pumps, heating, lighting, and other equipment which consume a lot of energy. Energy Trust helps providing cash incentives for energy-efficient equipment to farmers in Oregon and southwest Washington.
Energy Trust's technical assistance and cash incentives can help manage energy costs year over year. Interested in learning more? Check out Energy Trust rebates and calculated incentives for various system upgrades at www.energytrust.org/programs/agriculture.