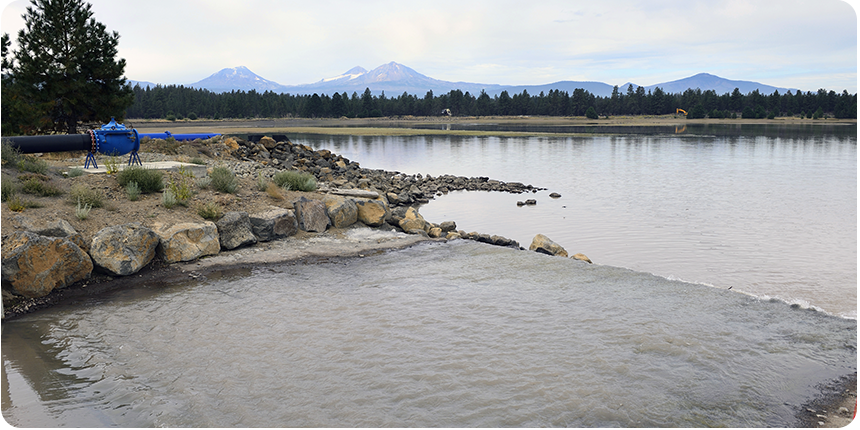 This month, Oregon leaders celebrated two new hydropower projects that generate clean energy at irrigation districts while saving energy, supporting agriculture, increasing drought resilience and bolstering local economies.
On October 16, Three Sisters Irrigation District capped a decade of the district's investments in efficient irrigation at a ribbon-cutting ceremony for the 700-kilowatt Watson Hydropower Facility. The facility uses pressure from recently installed irrigation pipes to generate renewable electricity, while delivering much-needed water to the district's farmers and maintaining flows in Whychus Creek. The Watson Hydropower Facility generates about 3.1 million kilowatt hours of electricity annually—enough to power about 275 average Oregon homes.
Three Sisters Irrigation District increased the efficiency of its water delivery systems with help and support from the U.S. Bureau of Reclamation, Deschutes River Conservancy, Energy Trust and many other stakeholders. By enclosing and installing more than 50 miles of pipe in more than 75 percent of its open canals, the district has been able to continue delivering irrigation water to farmers during historic drought conditions, even while improving stream flows for basin fish populations.
One week later, Farmers Irrigation District unveiled a 3-megawatt hydropower turbine that generates energy from water flowing through irrigation pipes, replacing two older turbines and repowering the district's operations with a more efficient system. The district began investing in hydropower in 1986 as a way to generate revenue and defray the cost of delivering water to approximately 5,800 acres and 1,900 residential and agricultural users, including the high-value pear, apple, wine grape and cherry crops for which the region is known.
The new turbine and generator at Farmers Irrigation District will produce 12 percent more renewable power than the older turbines, bringing in $130,000 more in revenue. In addition, the district expects to save its customers $100,000 to $150,000 per year in maintenance costs. The project was made possible in part by Energy Trust, which provided a $900,000 incentive for the $4.96 million project delivering power to Pacific Power.
Together, these projects are two of about 20 small-scale hydropower systems in Oregon that together have generated nearly $90 million in revenue and led to increased summer stream flows, installation of fish screens, removal of passage barriers and increased collaboration within watershed communities.
"The potential exists over the next decade for irrigation districts across the state to upgrade to more modern infrastructure, saving water, restoring streams and generating green, renewable energy," said U.S. Senator Jeff Merkley. "These investments in irrigation systems are also investments in the future resiliency, competitiveness and livability of Oregon's rural economies."
Learn more about the hydropower projects at Three Sisters Irrigation District and Farmers Irrigation District here.