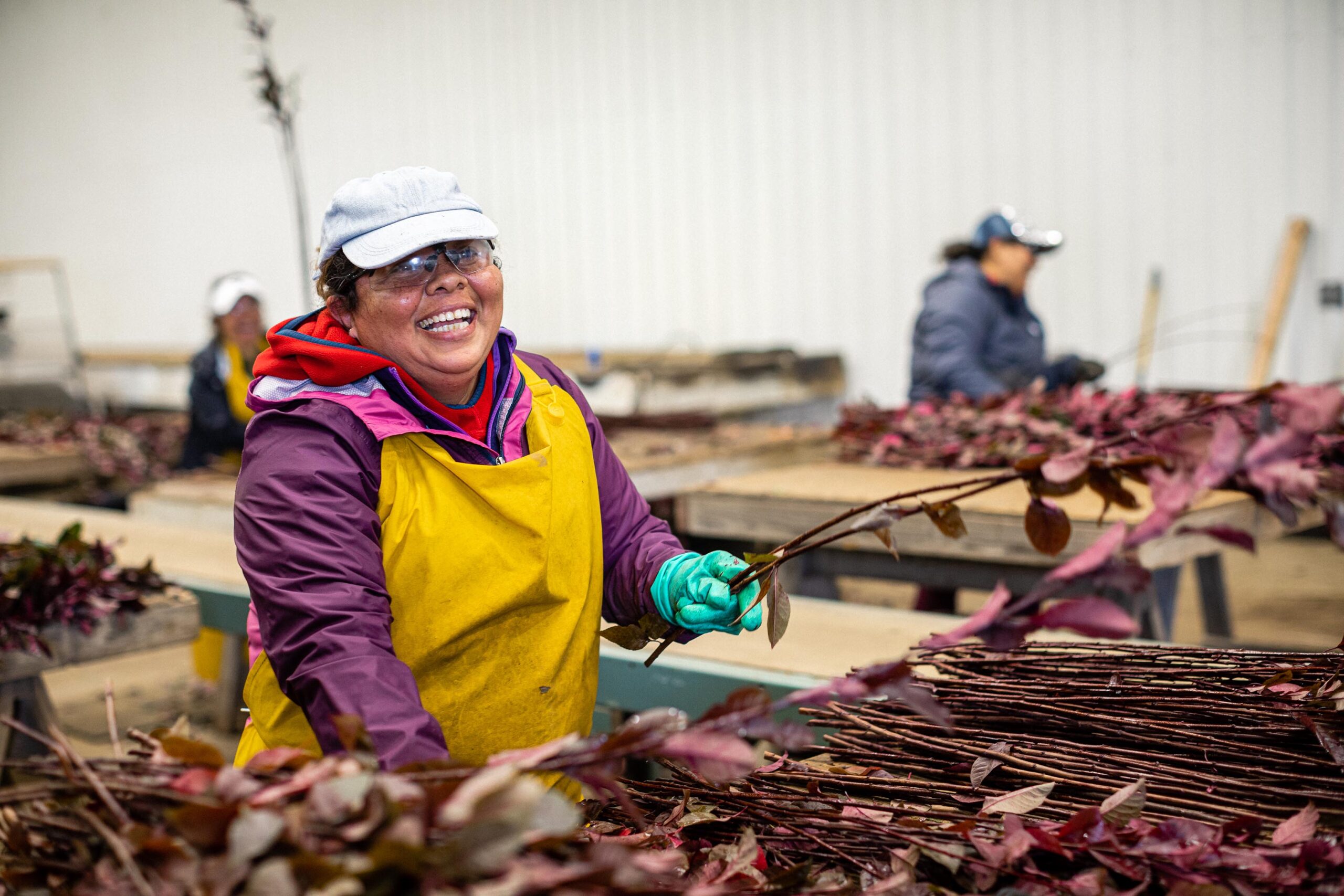 To Carlton Davidson, working with plants requires a certain kind of care.
"I've always preached to my kids that it's important to be the steward of your land," he said. "If you take things away from the land, you can put something back in its place or improve it or sustain it for future generations."
Davidson instills this appreciation for the environment not just at home, but also at Bailey Nurseries in Dayton, where he is the scheduling and operations planning manager.
"We've always been very conscious of sustainability," he said of the more than 100-year-old business. "If you want to be productive in growing trees and shrubs, you have to respect the land and respect its resources."
Bailey Nurseries is a fifth-generation, family-owned company that was established in Minnesota and has operations in Oregon. In late 2018, Bailey purchased Dayton-based Carlton Plants—no relation to Carlton Davidson—and brought the local business into its larger operations. Carlton specialized in bare-root trees, shrubs, and vines—perennial plants with roots attached that can be easily transplanted. It was a good fit with Bailey, which had growing operations in five states and offered similar plant products.
Before the purchase, Davidson's predecessor at Carlton had created a sustainability plan for the nursery. Once the two nurseries combined, though, the sustainability projects kicked into high gear.
Carlton's plan had included upgrading the nursery's light bulbs to fluorescents. But once new lights were installed in one building, they realized it wasn't quite the improvement the company hoped for. The bulbs needed frequent maintenance and it was complicated to dispose of them when they broke or burnt out. So, the project was put aside for a few years.
Then, in 2018, Bailey had a conversation with the nursery's electrical contractor at Farnham Electric in McMinnville. "He said, 'the incentives with Energy Trust of Oregon are crazy right now,'" Davidson recalled. "So, we regrouped and went through all the facilities."
The nursery worked with Energy Trust and Arbon Equipment in Portland to install new doors for its coolers. These high-speed doors help with energy savings by keeping temperature-controlled air from escaping. For Bailey, these new doors replaced ones that took about 45 seconds to open and close. That often led employees to leave the doors open for ease. Now, the new doors take just 10 seconds to open and close, and they're automated to open only when tall equipment like forklifts approach, which decreases the number of times the doors are opened. And it also means more consistent moisture and improved health for Bailey's plants. In all, the Dayton location had four doors replaced between 2021 and 2022; and it hopes to replace another four in the future.
The success of the door project left Davidson eager to see if Bailey's lighting systems would qualify for upgrades through Energy Trust's energy-efficient lighting offer. That was no small task. The Dayton location has 175,000 square feet of cooler and warehouse space. Davidson looked at all those spaces, as well as offices, lunchrooms, and bathrooms to build a project plan. "If it had a light, you name it, we went through it," he said.
Over the course of two months, Bailey worked with Farnham and another contractor, North Coast Electric, to replace every light with LED bulbs and install more than 200 fixtures with integrated controls. Energy Trust provided incentives of about $340,000 for the upgrades, which covered about 85% of the project cost.
"That's a staggering amount that you don't have to pay for," Davidson said of Energy Trust's support. "If it were 50%, I would have done it."
The electric bills are lower now, but the benefits go beyond that.
The new LED fixtures last much longer than those previously used in the nursery, which reduces maintenance costs. The overall atmosphere has improved, too. The old lighting was a dull yellow hue and skewed the true colors of the plants. The offices are now warm-hued for comfort and the lights in the cooler are brighter, showing the plants in all their brilliance. Additionally, the space was redesigned to reduce light fixture count and several types of new equipment were installed, including interior and exterior fixtures.
The new, automated lighting systems that were installed with the fixtures also allow employees to make better use of their time. Light fixtures with custom controls allow lights to automatically go off when not in use, leading to even more cost-saving measures. "When the power would go out, you had to wait for them to warm up again," Davidson said of the nursery's old 400-watt sodium lights. "If the crew was in the cooler, they would have to stand around for 15 minutes waiting for them to go back on."
Now, Davidson can monitor light use during the week, dimming lights when field workers leave buildings for the day, and scheduling the system to turn on when they return.
And the nursery won't stop there. Davidson is replacing the cooler doors with energy-efficient models that will keep cold air from escaping, and he is also looking for ways Bailey could use solar power in its operations.
To other businesses considering sustainability projects, he asked, "Why wait?"
"You pay into the program through your electric bill, so why not recoup some of that money back, and take advantage of the money that is available?" Davidson said. "You're putting money back into facility upgrades. At the same time, you're taking a step toward the future."
Learn more about lighting and lighting control upgrades for your business.