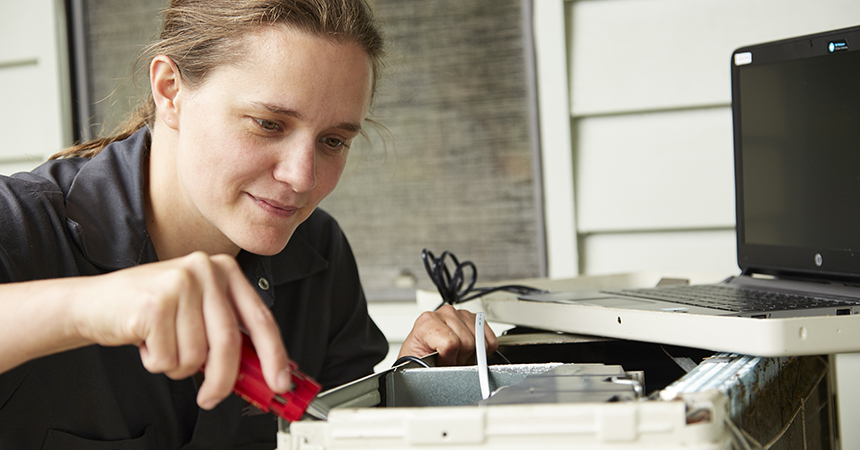 Are you ready to update your home or business to be more energy efficient or to produce renewable energy onsite? One of the first steps is to find a qualified contractor for your project. Energy Trust recently redesigned its online Find a Trade Ally Contractor tool to make it easier to connect with contractors in your area.
Trade Ally Network
Energy Trust works with a network of trade ally contractors and other professionals who design and install energy-saving improvements and renewable power systems. Licensed and insured trade allies are trained to meet Energy Trust standards for cash incentives. They also help homeowners and businesses apply for Energy Trust incentives.
Find a contractor to get started
New market research with residential and business customers helped identify ways to simplify the search functionality of the Find a Trade Ally Contractor tool and make it easier for customers to find the right trade ally for the job.
New features include:
A more intuitive search box to look for contractors by services they provide
A more visible way to search for contractors by company name
More options for filtering results by city, Energy Trust star rating and certifications
Easier access to the "make a list" feature, which lets customers select an unlimited number of contractors and export the list to a printable PDF
From a list of results, customers will have easy access to important company details and contact information, as well as the ability to find information about certifications and additional services
Clearer explanations of what a trade ally is, what Energy Trust star ratings mean and the value of our Trade Ally Network of contractors
Interested in becoming a trade ally contractor?
Contractors can receive training and assistance with certification to become members of Energy Trust's Trade Ally Network. Members gain access to job leads in their communities and elsewhere. The network is a great way to help keep local, skilled tradespeople informed of potential funding sources and best practices.