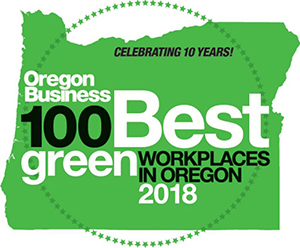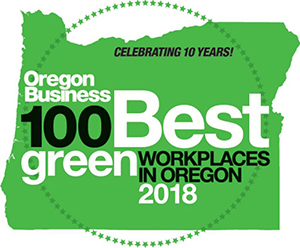 Energy Trust has again been recognized as one of the greenest organizations to work for in Oregon. Energy Trust was ranked 17th by Oregon Business magazine in 2018—up one place from 18th last year.
Oregon Business magazine's annual 100 Best Green Workplaces survey recognizes companies and nonprofits who have implemented practices around sustainability, such as conserving energy and water, buying local products, recycling and supporting public transit.
From fall 2017 through spring 2018, more than 13,500 employees from across the state participated in the 100 Best Green Workplaces survey. The results highlight organizations where employees place a high value on sustainable practices and believe commitment to these practices is essential. Energy Trust has participated nearly every year in the survey's decade-long tenure.
For more information on Oregon Business magazine's 100 Best projects, visit oregonbusiness.com/oregon100best.