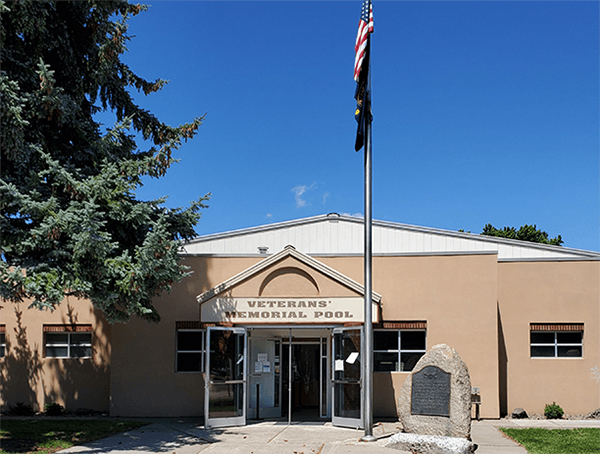 The City of La Grande converted what was once the outdoor Veterans' Memorial Pool into an indoor pool in the late 1990s. The facility features a small therapy pool, a 25-yard, 8-lane lap pool, basketball hoop and slide, along with a splash park outside.
Maintaining water temperature and indoor occupancy comfort takes a lot of energy, using four boilers and two water heaters. That is why the city has been so eager to install energy-saving equipment over the years.
"We have a long history of energy savings at the Veterans' Memorial Pool," says Stu Spence, director, City of La Grande Parks & Recreation. "As a public facility whose budget is always under scrutiny, it's important for us to demonstrate we're saving money and generating revenue. One way we do that is through incentives from Energy Trust of Oregon."
Teresa Roberts is the aquatic superintendent for Parks & Recreation. She and Stu first met with Energy Trust a few years ago when a representative conducted a site evaluation to identify opportunities for energy savings. One recommendation, a heat exchanger add-on that would help reduce their water-heating costs, caught their attention. The heat exchanger draws heat from outside air and transfers the heat to the cooler pool water circulating through the heater. The heated water then returns to the pool.
"We were attracted by the energy savings and the payback period," Stu says. "Using the technical analysis that Energy Trust provided, we flew our application through the budget committee at City Council. They approved it because we could demonstrate that our investment would pay for itself in a few years and that, with the incentives, our out-of-pocket costs were much lower."
After budget approval, Stu and Teresa hired a local contractor who drew up the engineering documents to install the exchanger and worked with two other local contractors to finish the electric and plumbing work.
The city used a $25,900 incentive from Energy Trust to help cover the cost of the heat exchanger, which is on track to save over 8,600 therms and nearly $6,500 in annual energy costs.
Stu and Teresa are now planning future energy-saving opportunities. They are looking to replace their existing pool covers, which help the pool water maintain its temperature. The pool covers, which require replacement about every five years, were particularly useful during the COVID-19 shutdown. "We turned the pool boilers off during the closure," Teresa says. "With the covers, the lap pool didn't lower in temperature, and our small pool only saw minimal changes in temperature."
"Those covers really hold the heat in," Stu adds. "They're a huge asset for our facility."
Other upgrades on the list include shower timers that shut off the water automatically after a period to help prevent patrons from accidentally leaving the water running, and variable frequency drives to capture more energy savings from the pool pumps. "That has some good potential," Stu says, "it's another example of the opportunities, specific to our facility, highlighted by the Energy Trust site evaluation and technical analysis."
Find out more about equipment incentives and how they can help your organization at www.energytrust.org/existingbuildings.