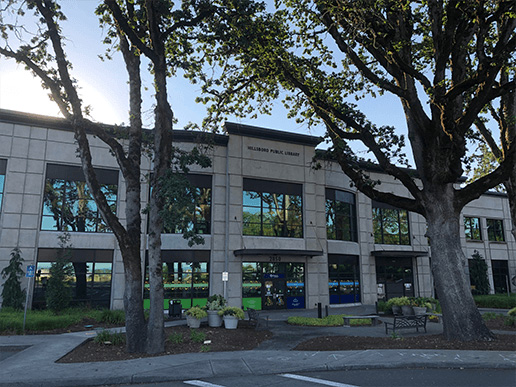 The City of Hillsboro Facilities Department manages roughly one million square feet of real estate, including fire and police stations, libraries, a large civic center and recreation complex, public works facilities, and more.
David Cobos, an HVAC technician who has worked for the city more than five years, helps maintain those buildings. "We go wherever the work is," he says. "The HVAC team not only replaces or repairs standard heating and cooling equipment, but also services exhaust fans, kitchen equipment and more."
Cobos recently helped install a new, high-efficiency condensing tank water heater in two days at the Hillsboro Brookwood Library. The city scheduled the upgrade strategically: the library was closed temporarily during the COVID-19 pandemic and the water already shut off. The replacement unit will save the city 275 therms and more than $200 in energy costs annually, and $375 in incentives from Energy Trust of Oregon helped cover the cost of the equipment.
The city, which has worked with Energy Trust in the past, tracks its energy use carefully and will explore additional energy-efficiency improvements once the library resumes full operations. "We have a sustainability team that's constantly reviewing our utility records to check for changes in our energy use," Cobos says. "We're always looking for ways to save energy. One of my duties is to regularly tune up our HVAC units to help them run more efficiently."
The city's emphasis on energy efficiency prompted Cobos to enroll in Energy Trust's Strategic Energy Management (SEM) offering, which trains participants in energy management best practices. "My operations manager asked if anyone would be interested in joining," he says. "I wanted to learn more about saving energy and so was happy to sign up." Since engaging with SEM, the city has identified additional energy-saving opportunities and will continue to collaborate with cohort members to build and employ best practices across their operations.
Find out more about equipment incentives and how they can help your organization at www.energytrust.org/existingbuildings.