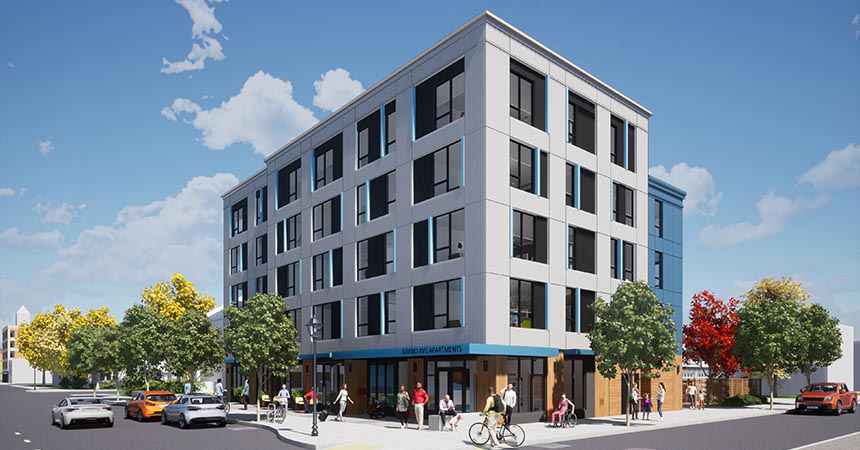 This fall, two multifamily buildings will open in one of Portland's historically Black neighborhoods, creating new affordable homes specifically for communities affected by gentrification and rising housing costs.
The buildings are part of Alberta Alive, a partnership between affordable housing developer Community Development Partners (CDP) and the nonprofit Self Enhancement, Inc. (SEI). The goal is to celebrate and strengthen Portland's Black community with safe and affordable housing, supportive services and a community for people historically underserved in Portland.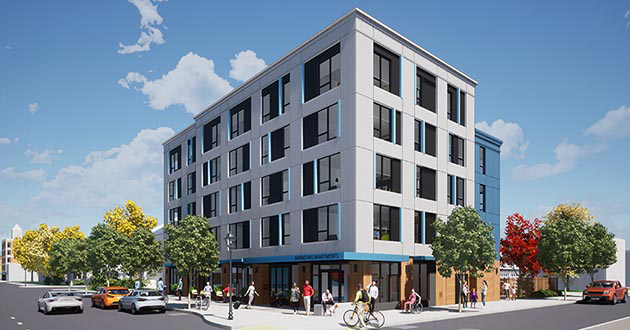 The first two buildings of Alberta Alive are located along Northeast Alberta Street in Portland's historic King neighborhood. The Paul Knauls Building will include 31 units specifically for veterans. The Ronnie Herndon Building will have 21 units of family-sized housing. The organizations say the buildings will create permanent affordable housing with culturally specific services offered onsite to foster a safe and stable community for Black families and veterans.
Three additional projects are planned in the coming years including one under construction on North Interstate Avenue.
"We're not building something quick and cheap, so we can then flip it for a profit and we're out of there," said Eric Paine, CEO of CDP. "We're involved, invested in the communities in which we're working. We're not going anywhere."
The projects come as Oregon seeks solutions to an ongoing housing crisis during which the governor has called for an 80% increase in new construction. One way to keep housing affordable is to build as energy efficient as possible, removing high energy costs as a barrier to long-term affordable housing.
According to the American Council for an Energy-Efficient Economy, low-income households spend an average of 8% of their income on energy and Black, Native and Hispanic families spend as much as 45% more of their income on energy than White households.
Energy Trust offers housing developers support and resources to help make new homes energy efficient. When homes are designed with energy efficiency in mind, the upfront cost of energy bills are lower for residents— making housing more accessible.
Energy Trust supported CDP and SEI on the construction of The Herndon and The Knauls, helping them design the buildings with energy efficiency at the forefront.  They also received incentives to include ductless heat pumps, a central heat pump water heater, LED lighting, and other features that lower energy use and costs. For Paine, efficiency is a priority from both an environmental perspective and a business one. Less energy use not only saves tenants money, but also ensures the long-term financial viability of the building project.
"We're trying to integrate energy efficiency everywhere we can," said Paine. "From LED lighting to solar power, there are many things that developers should be doing to create efficient, affordable housing that contributes to a stronger and healthier community. We need to do our part."
Energy Trust is also supporting CDP's work in Salem where the company is building a 15-acre affordable housing community called Mahonia Crossing. The project is using Energy Trust solar incentives and is working to achieve Energy Trust's Path to Net Zero certification. The community is slated to open in November and will eventually offer 313 units for residents who earn 30-80% of the area median income.
Energy Trust offers a variety of incentives for new construction and major renovations. In addition to offering design support, Energy Trust helps lower developers' costs for things like insulation, heating and cooling, water heating, solar and other features that make new buildings energy efficient. Along with cutting energy use, these features make the building more comfortable, provide better lighting and air quality and are even safer during extreme heat.
Find incentives and support for your new construction or major renovation project at www.energytrust.org/newbuildings or call 1.877.467.0930.
To hear directly from the Alberta Alive design and build team about this exciting project, join a webinar on Sept. 20. Panelists will include Rosanne Lynch from Access Architecture, Alex Colas from Colas Construction, Lucy Corbett from Community Development Partners and Thayer Hendrickson from Windsor Engineers. Register for the webinar.